親愛的朋友們,今天要跟大家介紹的是位於慕軒飯店二樓的GUSTOSO 義大利料理。 "GUSTOSO"的意思是義大利文的「好吃、美味」的意思。這家道地的義式餐廳屬於義大利南部家鄉菜的質樸口味,強調不使用過多的烹調方式而影響食材的鮮美,轉而從食材的選擇及細緻的調味下功夫。想要嘗試感受道地的義大利飲食文化,可以來試試這家餐廳。


My dear friends, I will take you to enjoy a beautiful Italian restaurant "GUSTOSO" which is on the 2nd floor inside the Madison Taipei Hotel. "GUSTOSO" means "delicious" in Italian. This authentic Italian restaurant provides a rustic taste of home cooking from Southern Italy.
They insist on not using too much cooking so as not to affect the delicacy of the ingredients. Instead, they focus on the selection of ingredients and careful seasoning. You can try this restaurant if you want to enjoy the authentic Italian food culture.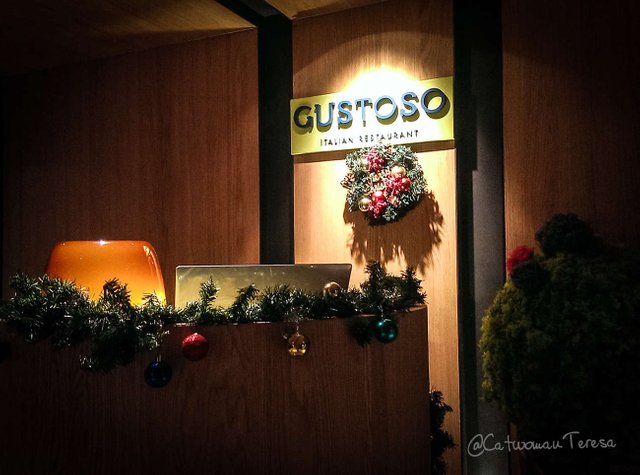 The decoration of the restaurant uses a rather understated dark color with high-quality log furniture and the use of light to create a relaxing luxurious dining ambiance.
餐廳的裝潢採用比較低調沈穩的暗色系,搭配高質感的原木傢俱,並且利用燈光來打造奢華內斂的用餐氛圍。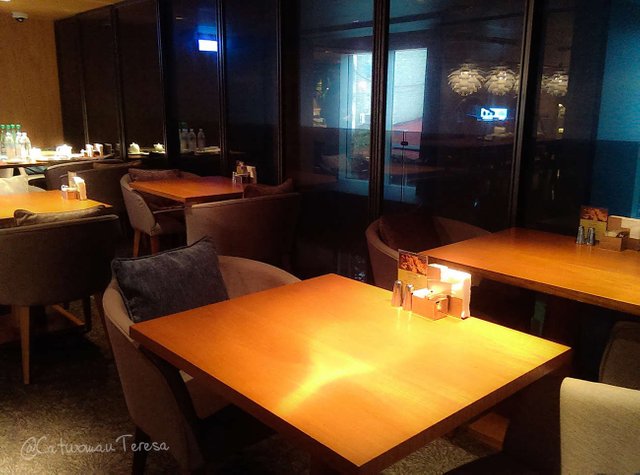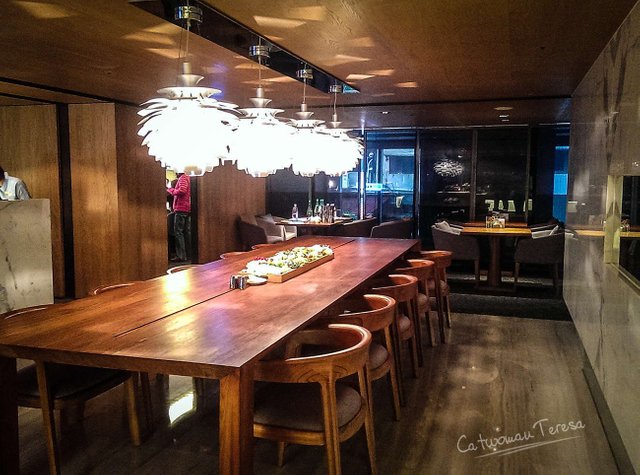 There are two VIP rooms you can reserve for the conference or private dining.
餐廳有兩間包廂,可以供私人用餐或是會議使用。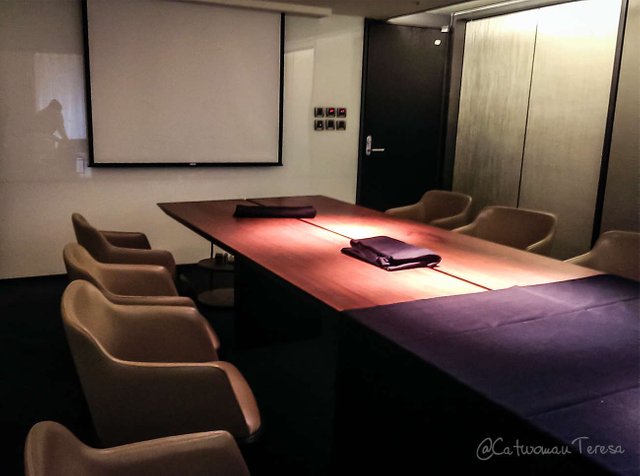 In addition to the furniture, Gustoso is very fastidious with the accessories and decorations.
除了傢俱之外,配件及擺飾也都非常講究,還沒有享受美食就已經有身處五星級用餐環境的滿足感。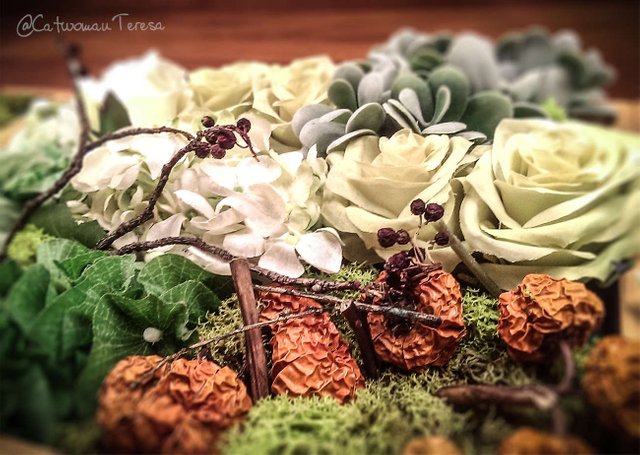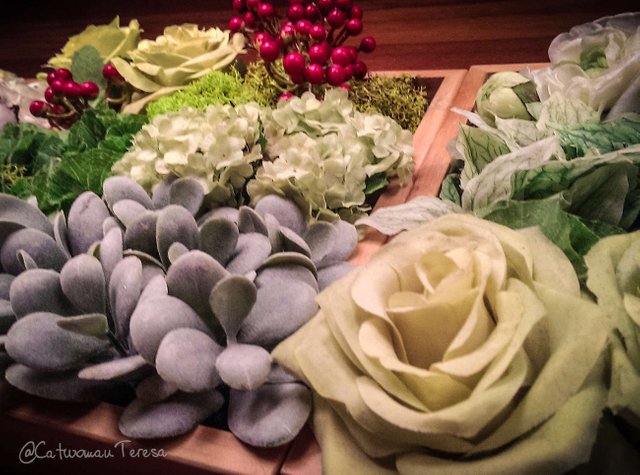 These crystal clear artwork greatly enhances the style of the restaurant and shows the elegance of the restaurant. You can immerse yourself in the artistic atmosphere when you dine here. In addition to physiological satisfaction, you will also be visually rewarded.
這些晶瑩剔透的藝術品擺在餐廳裡,大大的提升了餐廳的格調,可以看得出餐廳的品味。在這裡用餐,順便沈浸於充滿藝術的氛圍,參觀了一場藝術的饗宴,除了肚皮上的滿足,也得到了視覺上的滿足。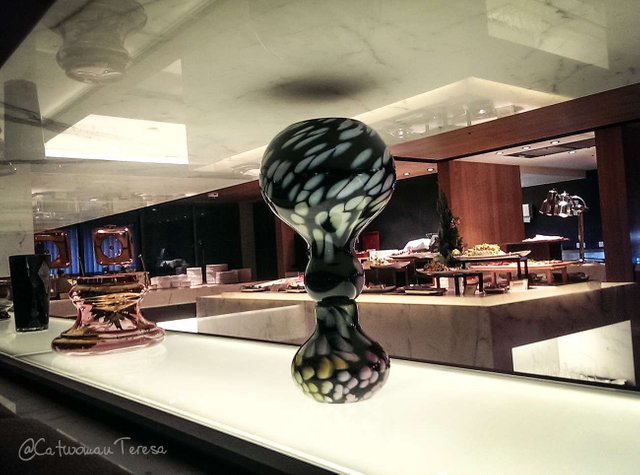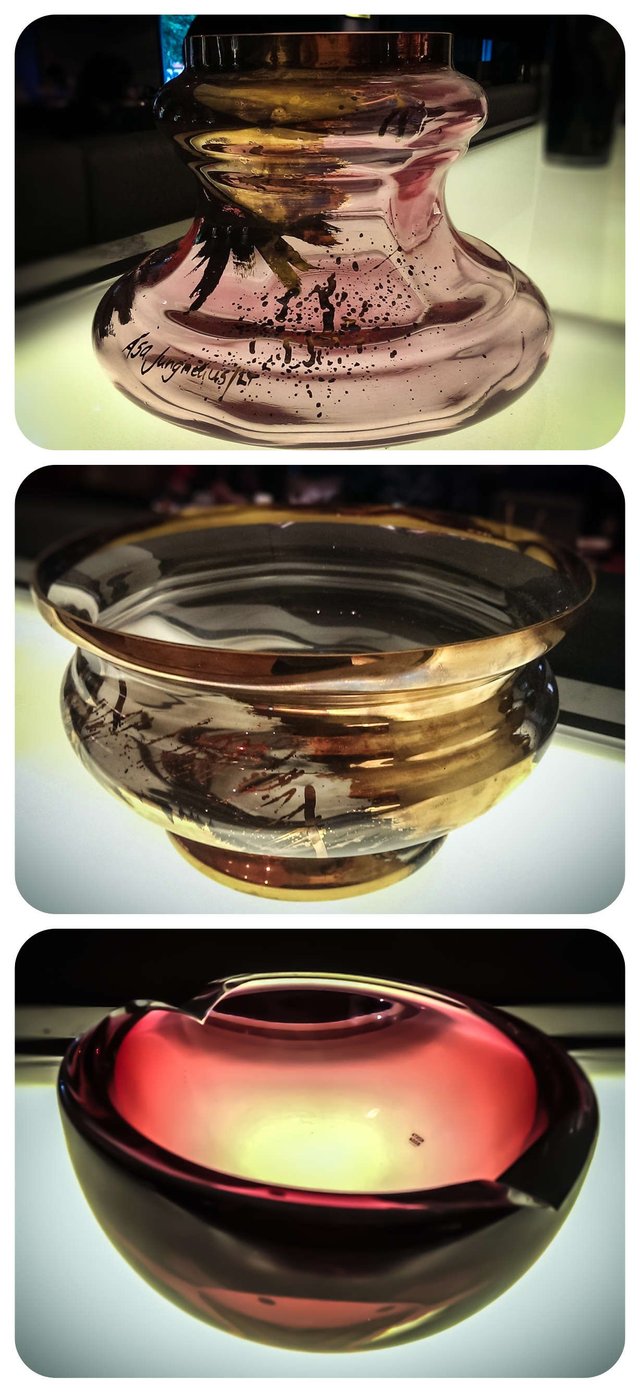 The dining ambiance is perfect, but the meal is the soul of the restaurant after all. Let's see what kind of food is served here.
We went there on the weekday for lunch. Their salad buffet is only available at this time so I think it provides a great value for money at lunchtime.
They are very meticulous with both the flavor and presentation of the food.
用餐環境完美,但是餐點畢竟還是餐廳的靈魂。來看看這裡提供了什麼樣的餐點?
我們去用餐的時間是平日的中午,只有這段時間會提供自助沙拉吧,也是我覺得CP值最高的用餐時段。
他們的沙拉吧不論是菜色內容或是擺盤方式,都讓人覺得蠻用心的。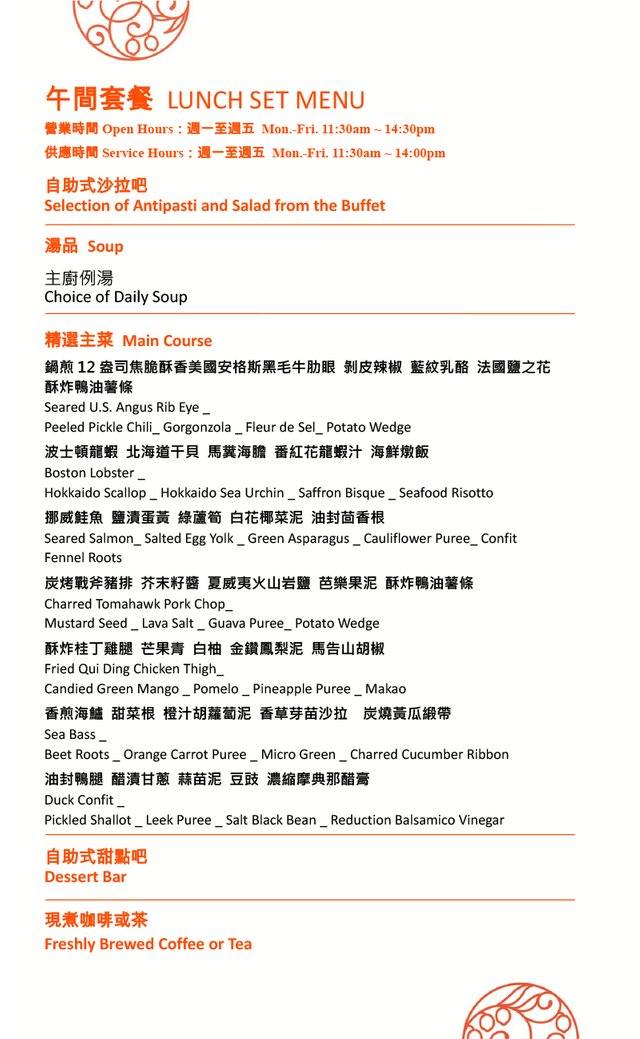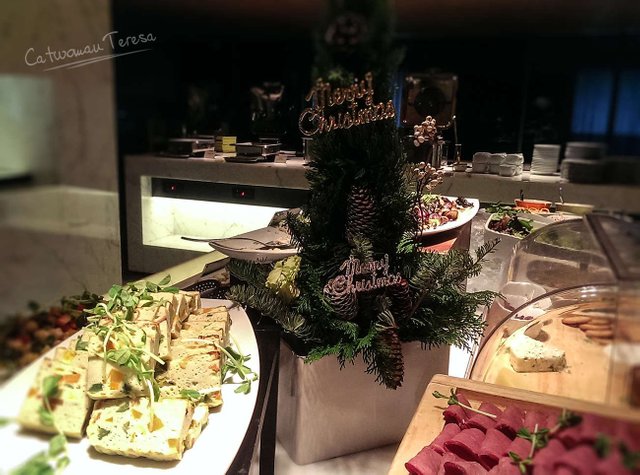 Salad and fruits are a must-have.
既然是沙拉吧,生菜沙拉和水果吧自然是基本配備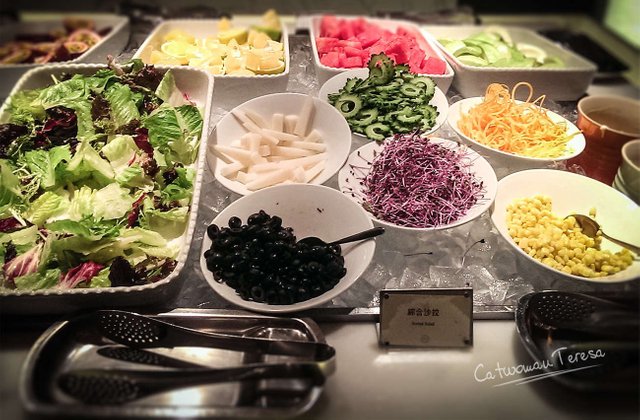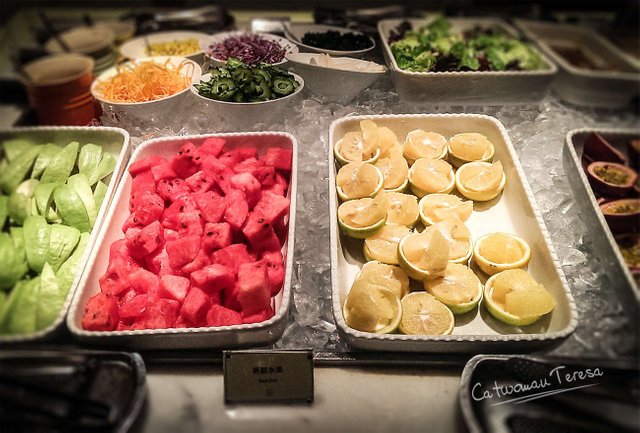 There are many different kinds of vegetables and fruits in the Waldorf Salad which is rich in nutrition.
華爾道夫沙拉有大量的水果,加上西洋芹、蔓越梅乾等食材,營養相當豐富,口感也很有層次感。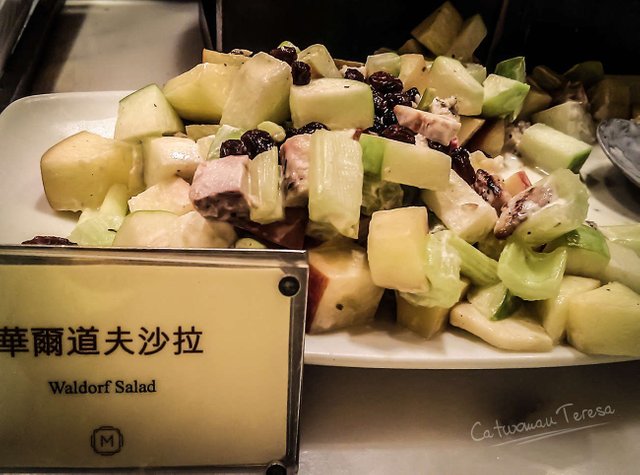 Potato salad is always a very popular cuisine.
洋芋沙拉相信大家也不會陌生,馬鈴薯的營養價值豐富,做成涼拌沙拉一向是人氣很高的一項料理。加上豌豆苗倒是比較少見的一種搭配。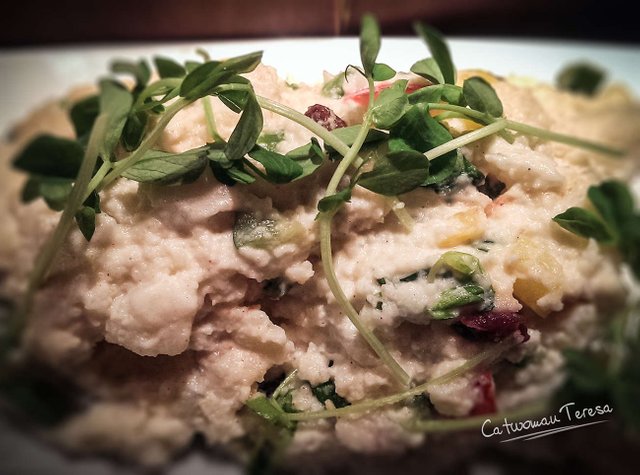 This is chick pea salsa. Chick pea is rich in protein. It is a good source of amino acids which is especially important for vegetarians. It is also rich in dietary fiber, rich in vitamins and minerals and equivalent to brown rice nutrition. The famous British Chef Jamie Oliver praised it as a superfood. The crispy crunchy mouth full of chick pea salsa offered here is really tasty!
這道叫鷹嘴豆莎莎。鷹嘴豆含有的豐富蛋白質不輸肉類,是優質的氨基酸來源,素食者千萬別錯過它。它還含有豐富的膳食纖維,豐富的維生素及礦物質相當於糙米的營養。英國名廚傑米奧利佛盛讚它為超級食物,大力推廣。
撇開這些營養上的優勢,這裏提供的鷹嘴豆莎莎,香香脆脆的口感,真的很好吃啊!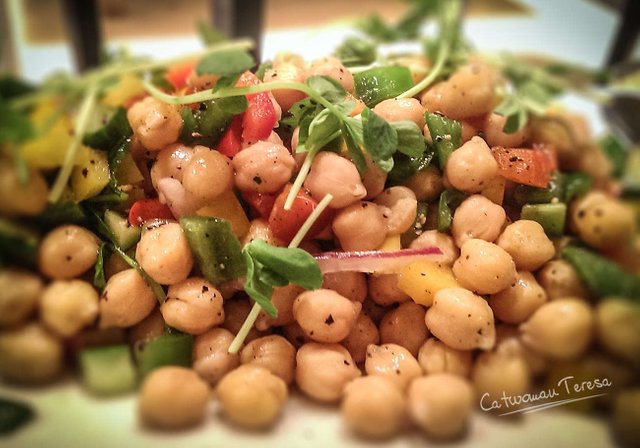 This is Meaning style spices stir-fried mushrooms. European cuisine is quite particular with the use of spices. This dish is very refreshing. I like the taste of spices.
義式香料炒菇。歐洲的料理在香料的使用上相當講究,這道料理炒得很爽口,香料的味道我很喜歡。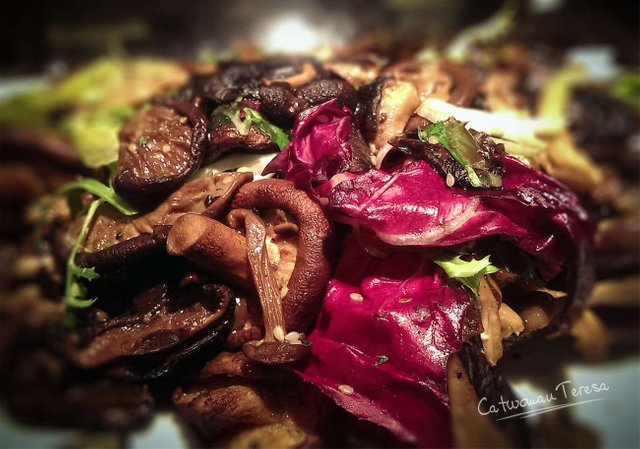 I think this may be a very common homemade dish in Europe. It tastes good and nutritious.
這應該可以算是歐洲很常見的家常料理,不過我不是很懂得欣賞這種料理。感覺上就是把很多蔬菜炒在一起的大雜燴,味道是還不錯,也很有營養,可是就不會覺得特別好吃。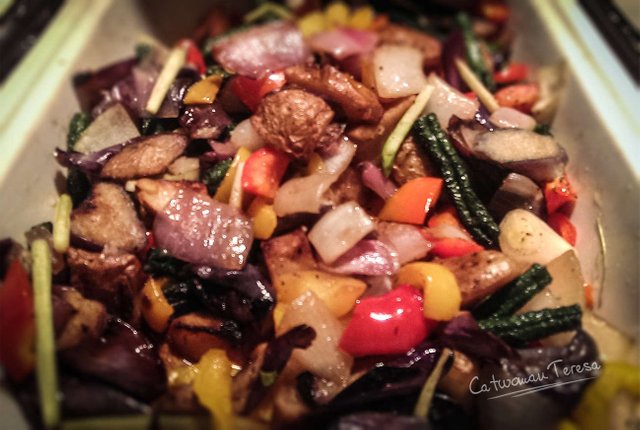 The Florentine Frittata looks delicious, but actually a little too bland for my liking. I think people who like eggs will love this dish.
這道佛羅倫斯烘蛋看起來有點像三色蛋,但是卻沒有三色蛋的味道層次那麼豐富。這道料理味道有些淡,除了蛋好像也沒有什麼其他特別的味道,基本上喜歡蛋的人應該會喜歡這道料理。(聽起來好像很廢話??)
好玩的是,他們真的很愛拿豌豆苗來擺盤,好像什麼料理都可以放上豌豆苗來做裝飾,豌豆苗有這麼百搭嗎?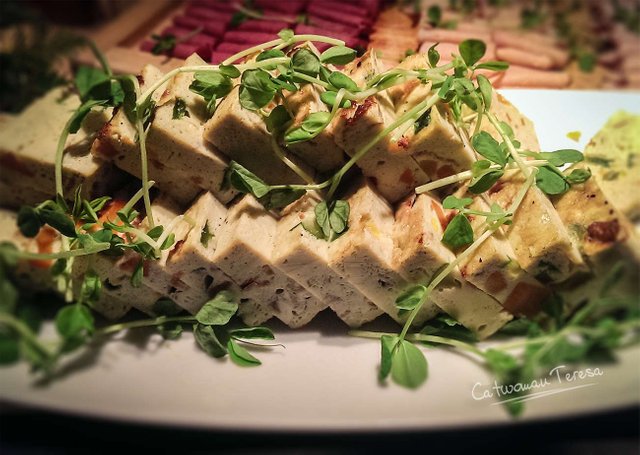 Pasta is the classic dish in an Italian restaurant. People who like strong cheese will certainly love it.
義大利通心粉自然是義式餐廳的經典料理啦!喜歡濃濃起司味的朋友肯定會愛這道料理的。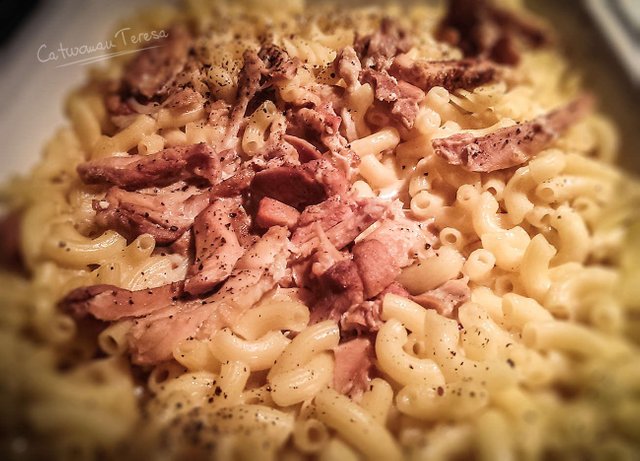 Their pizza is freshly baked. The oven looks very professional. The baked pizza is thin and crispy.
披薩也是義大利經典料理,他們的披薩是現烤的,這個爐看起來很厲害,烤出來的披薩是屬於薄脆的餅皮,可惜我吃的時候已經有點軟掉了,剛烤好的酥脆口感可能會還不錯。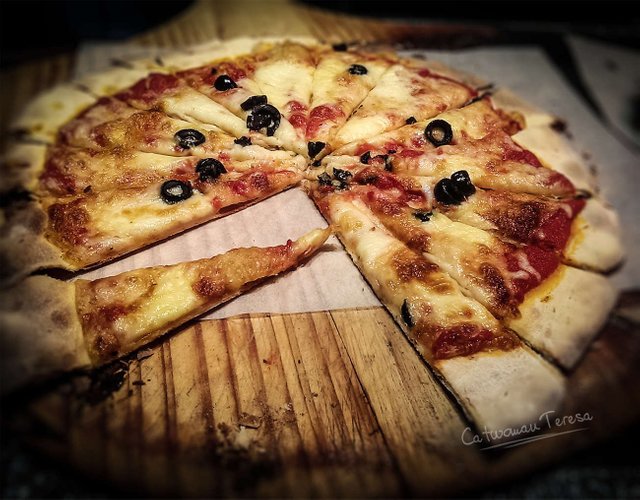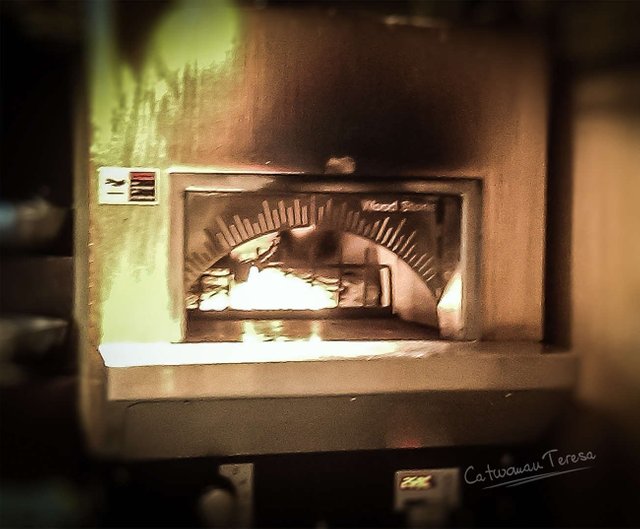 The taste of ham is good, but a little bit too salty. I think it will taste perfect with bread.
火腿的味道還不錯,不過單吃有些鹹,總覺得應該搭個麵包之類的。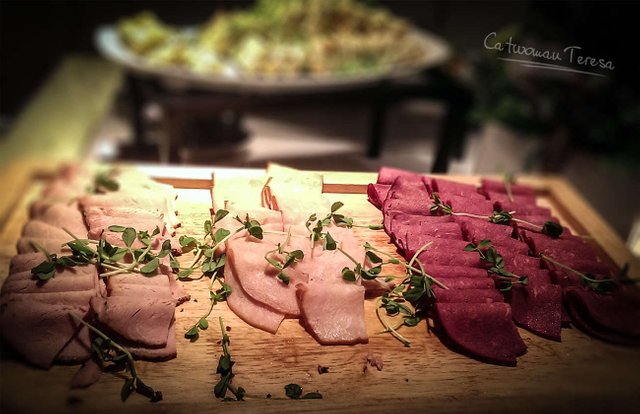 Here are several kinds of cheese. Put some cheese and nuts on the biscuit, and it tastes really delicious. People who like traditional European cheeses will be very happy to enjoy the cheeses.
這裏提供了好幾種cheese,把cheese放在餅乾,撒上一些堅果,真的蠻好吃的。喜歡歐洲傳統cheese的人應該會開心死了。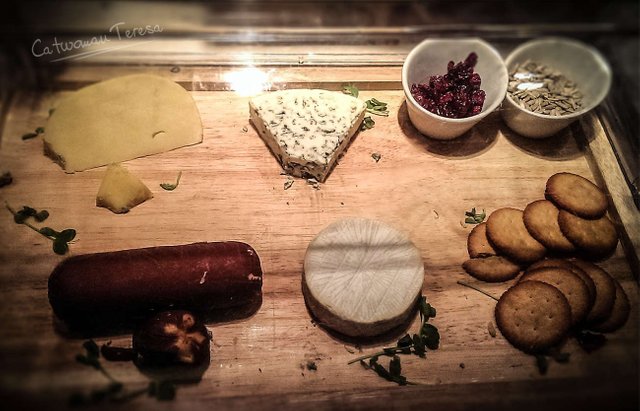 The buffet also includes a variety of desserts, drinks and ice cream. They are quite generous to provide Movenpick ice cream as it is expensive. The ice cream tastes rich and delicious.
自助沙拉吧也包括了各式甜點飲料冰淇淋,這裏提供的是莫凡彼冰淇淋,相當有誠意。莫凡彼的冰淇淋非常香濃好吃,價格也不便宜,喜歡吃冰品的人千萬別錯過。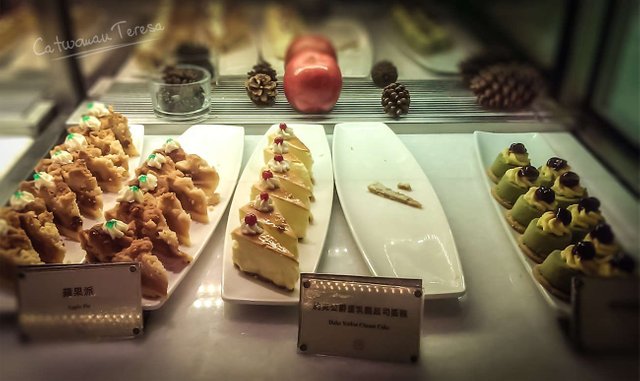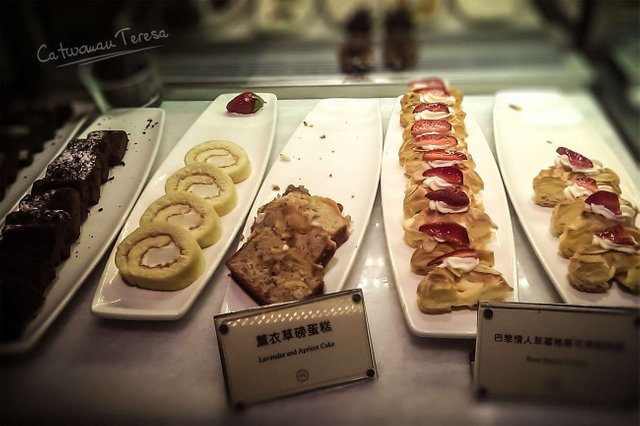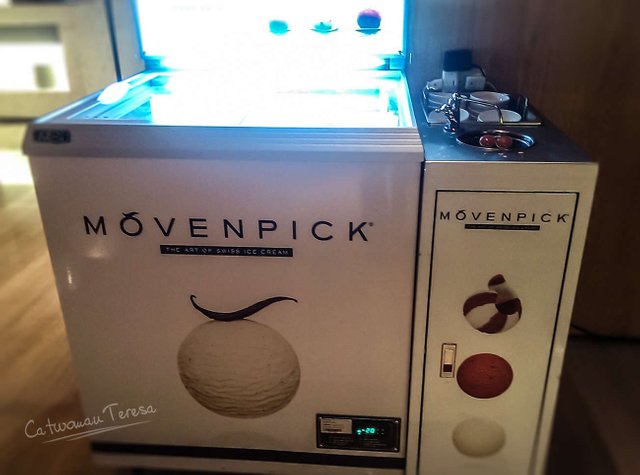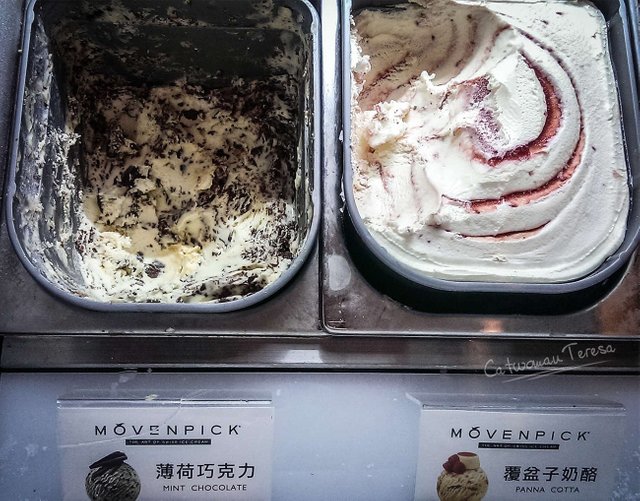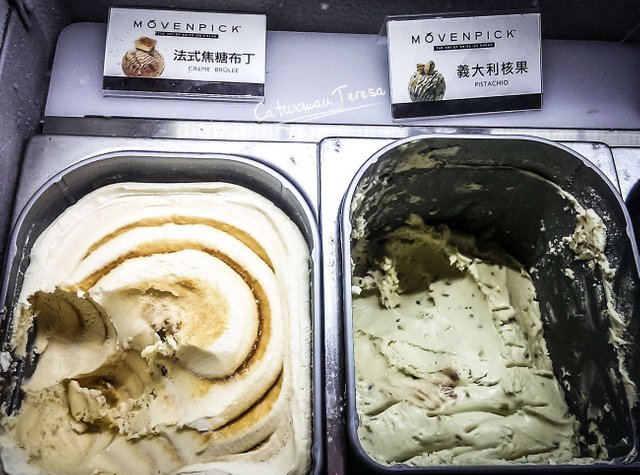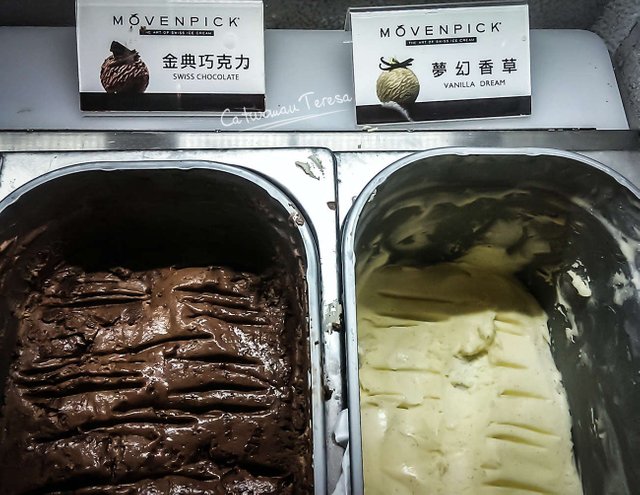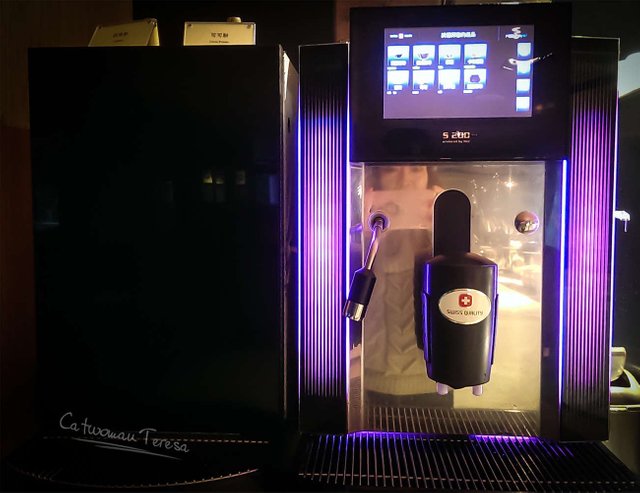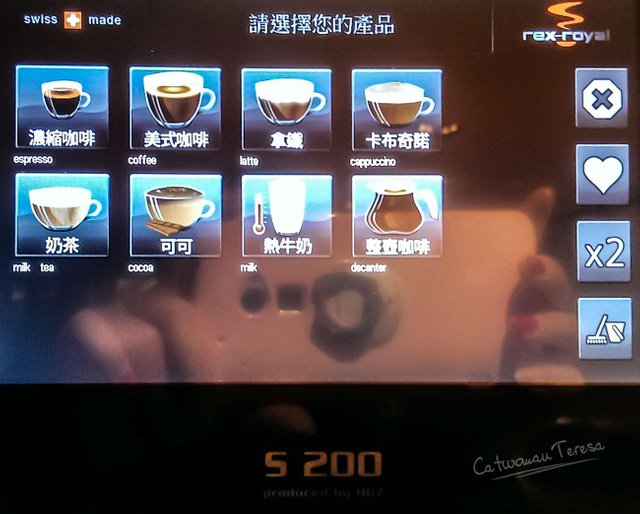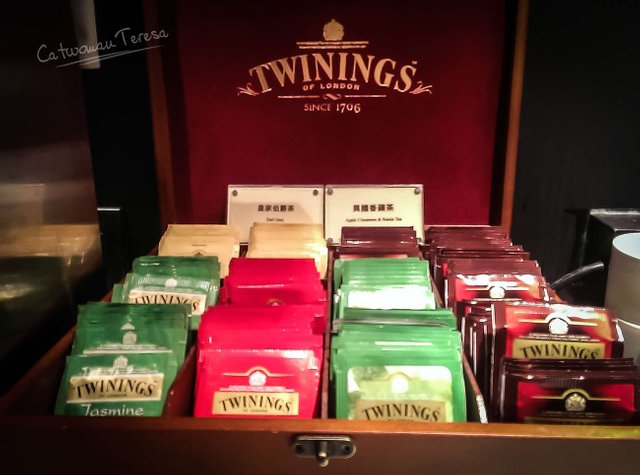 The main meal is even more sophisticated. I realized that I completely forgot to take any pictures. Here I've added some pictures from the official website for your reference.
I think the main meal is not particularly good value for money. However, their ingredients are fresh. The seasoning is light. I think they want their clients to taste the original flavor of the fresh ingredients. If you have a salty or spicy palate, you may not like their cooking.
Most restaurants with a salad bar don't provide a takeaway service, but here you can take away your main meal if you can't finish it.
主餐的份量不多,屬於比較精緻的料理。我發現我竟然完全忘了拍主餐,就放上一些官網的照片讓大家參考一下吧!
主餐的部分,以他們的價位來說,我覺得沒有特別美味,但是勝在食材新鮮。調味上比較偏向清淡,可能是希望讓客人嚐出食材的原味。我自己是還蠻能接受這樣清淡的口味,但是對於偏好重鹹或是無辣不歡的朋友,可能會覺得食之無味。
主餐若是沒有吃完可以打包回去,並不會像一般有附設沙拉吧的餐廳通常禁止打包。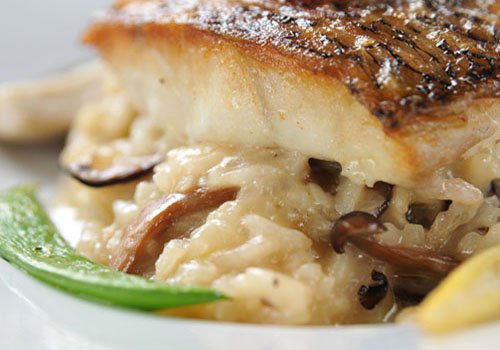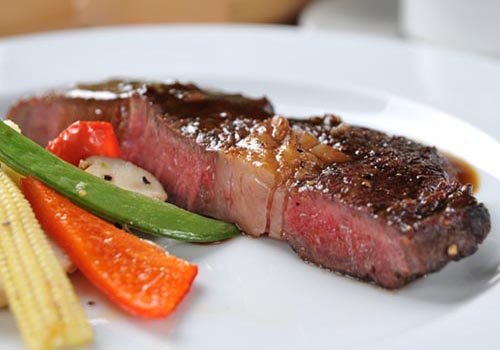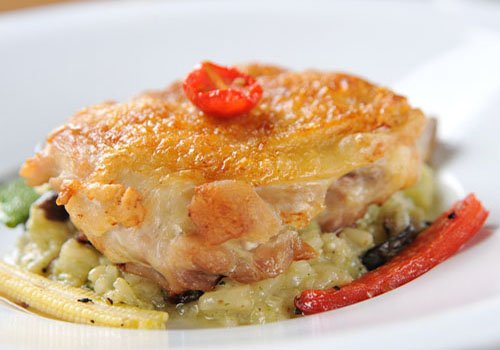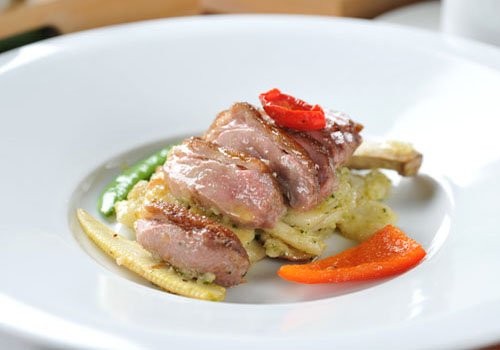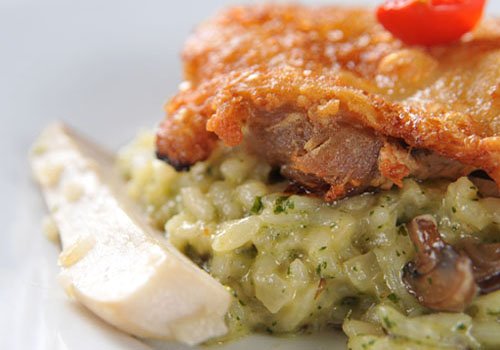 For high-end restaurants, it is always a big enjoyment to visit their lavatories. Here, it's decorated with marble washbasin and gold-rimmed mirror that reflects a luxurious style.
They provide plenty of floss, cotton swabs, and sanitary pads.
The most intimate touch is that they also provide mouthwash which makes me feel being treated as a VIP.
對於高級的飯店或餐廳,使用他們的廁所是一大享受。大理石洗手台和鑲金邊的大面鏡子,走的是高級奢華的路線。
牙線、棉花棒、女性生理用品一應俱全。最貼心的是還提供了漱口水,真的有被當上賓對待的感覺。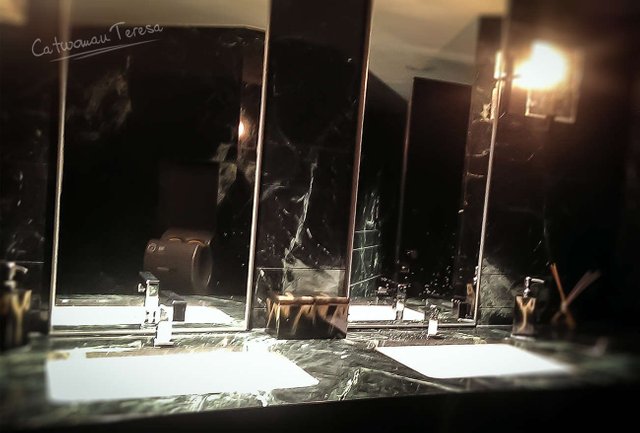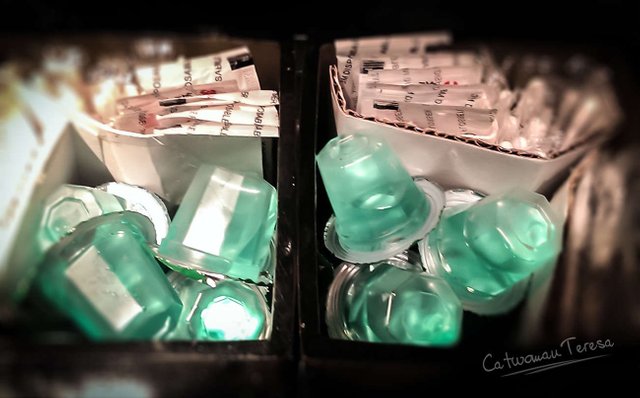 Gustoso's service is very attentive. The hotel is located in the beautiful area of Dunhua district in the prime location of Taipei.
There is a paid underground parking. However, parking spaces seem to be somewhat inadequate. It is better to arrive earlier before the meal time.
I helped my father to park his car that day. I found that the only handicap parking has been occupied. After speaking to the restaurant, the manager invited us to park at the VIP area on the 1F. The service was so friendly.
Although the lunch service stops at 2:00 pm, you can still continue to enjoy your meal. It's great for staying on to chat with friends with no pressure to be evicted.
I will suggest you buy the coupons on the internet which is NT$1280 for two. If you go on the weekdays for lunch you can also enjoy their salad buffet. It's really worth it to spend your time to enjoy the great food and the comfortable dining environment here.
Gustoso的服務態度非常殷勤,不愧是五星級飯店附設的餐廳。
飯店位於台北的黃金地段美麗的敦化商圈,有收費的地下停車場,但是位子似乎有些不足,最好能在用餐時間之前就提早到。
當天幫爸爸停車時發現唯一的殘障停車位已經被佔據,跟餐廳反應後,餐廳經理特別引導我們停到1F預留的VIP位置,服務很親切。
午餐時間雖然到2點停止供餐,但是可以繼續悠閒享用主餐和已經取用的餐點,服務生不會有不禮貌的趕人行為。所以這裏很適合跟朋友在這邊聊天聚餐,不會有時間上的壓力。
我對於餐廳的環境及服務都非常滿意,他們的沙拉吧也頗精彩。如果只是單純來享用主餐,這裏未必是很好的選擇。但是如果是平日中午來享用沙拉吧套餐,網路上很容易可以買到餐券,兩人$1280,以這樣的用餐品質,我覺得很值得推薦。

---
慕軒 GUSTOSO 義式料理
地址
營業時間
每日早餐供應時間: 6:30 a.m. – 10:00 a.m.
午餐: 11:30 a.m. – 2:30 p.m.
晚餐: 6:00 p.m. – 10:00 p.m.
最後點餐時間:營業時間結束前30分鐘