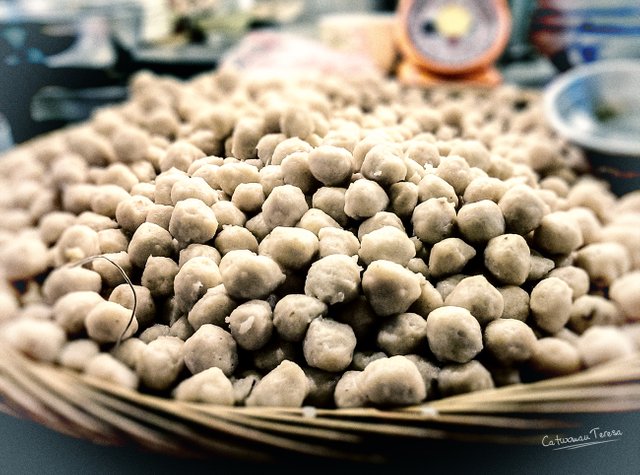 提起丸子,忍不住就會想到「食神」電影中,彈性媲美乒乓球的瀨尿蝦丸。
魚丸和魚漿一樣都必須用新鮮魚肉製作,這樣才能做出有彈性的魚丸。
魚肉經過剁碎之後,不斷攪拌至黏稠綿密且帶有光澤,魚肉裡的鹽溶性蛋白會重組成網狀結構,再加入少許太白粉、水(或蛋白)以及鹽、白胡椒等調味料再次拌勻,就成了好吃的魚漿,之後從虎口擠出丸狀,用沾水的鐵湯匙取下,放入80~85度的水中,就可製成鮮甜好吃的手工魚丸。

腦海又浮出了莫文蔚拿著兩隻菜刀,豪邁帥氣剁肉的景像,經典的電影畫面真的怎麼甩頭都甩不掉呀!甩得我頭好暈
Fish balls must be made from fresh fish so that the fish balls can be made elastic.
After minced fish meat is chopped and stirred until it is sticky and glossy. The salt soluble protein in the fish reconstitutes into a reticular structure. Add potato starch, water, salt, white pepper, and other seasonings to mix well.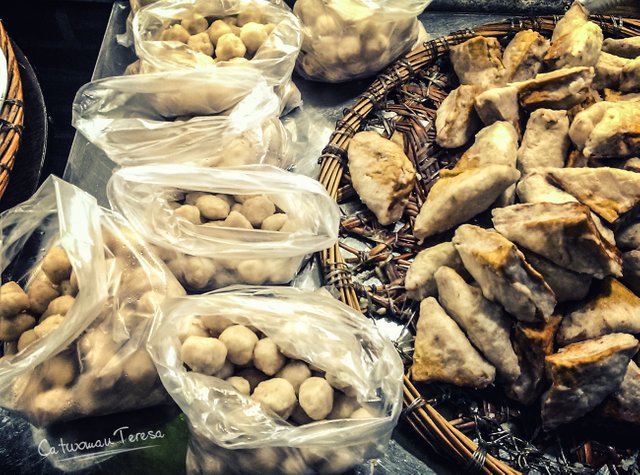 魚丸的旁邊是豆干包,是基隆特有的美食。
油豆腐切半,包入調過味的絞肉,用魚漿封住開口。一樣食物可以同時吃到多種材料及口感,淋上基隆特有的甜辣醬,非常推薦!

Next to the fish ball is the fried tofu bag, which is a unique delicacy for Keelung. Cut fried tofu in half, wrap in seasoned ground meat and seal the opening with fish paste. You can eat a variety of materials and taste at the same time. It's especially delicious when it is topped with Keelung's unique sweet chili sauce, highly recommended!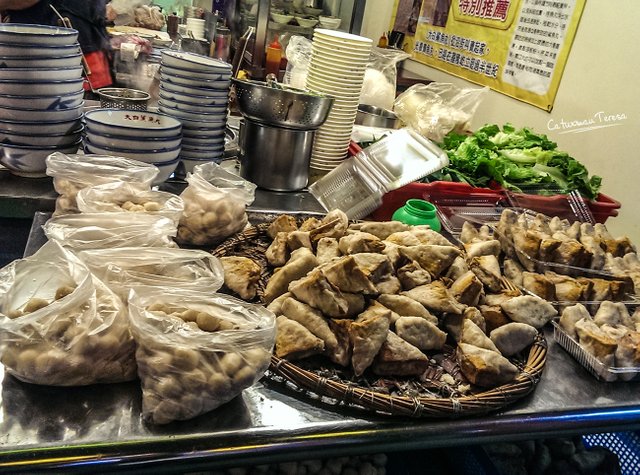 基隆的漁產豐富,所以很容易可以吃到新鮮美味的海產。瞧瞧這碗香氣十足的綜合魚丸湯,是基隆很受歡迎的銅板小吃,來基隆玩的話可別錯過喔!
Keelung is rich in fishery products. Look at the fish ball soup which is very popular for Keelung locals. Don't miss it if you come to Keelung!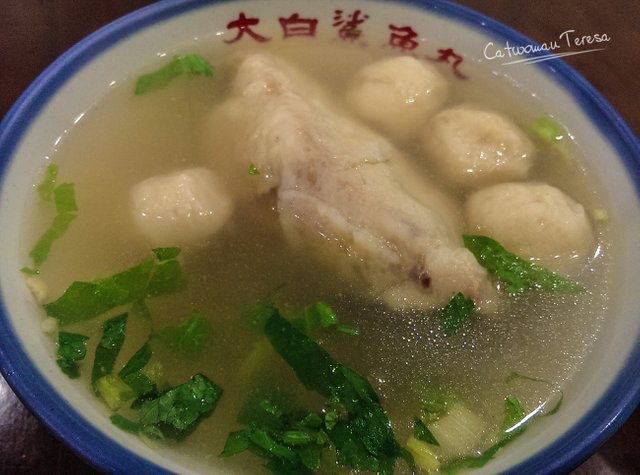 ❤️Love from Catwomanteresa

If you like my post, please follow, comment and upvote me. There will be more exciting posts. See you next time~

歡迎關注、點讚、轉發,接下來還有更多精彩的內容,我們下次見!

---
換個搜尋方式就可以免費賺取虛擬幣喔!
詳情請點下圖連結