If you remember that I once said, Er-Mao always turns his head away every time he sees the lens. He is a cat who is not in love with the camera. Therefore, it is rare to take these two photos. 
Look at his gentle eyes, in fact, Er-Mao is usually like this, always affectionate. How can you not love him?

如果你們記得我曾經說過,二毛每次看到鏡頭就會把頭撇開,他是隻非常不愛上鏡頭的喵仔。所以拍到這兩張照片有些難得,瞧瞧他溫柔的眼神,其實平時的二毛就是像這樣,總是深情款款,讓人不得不憐愛。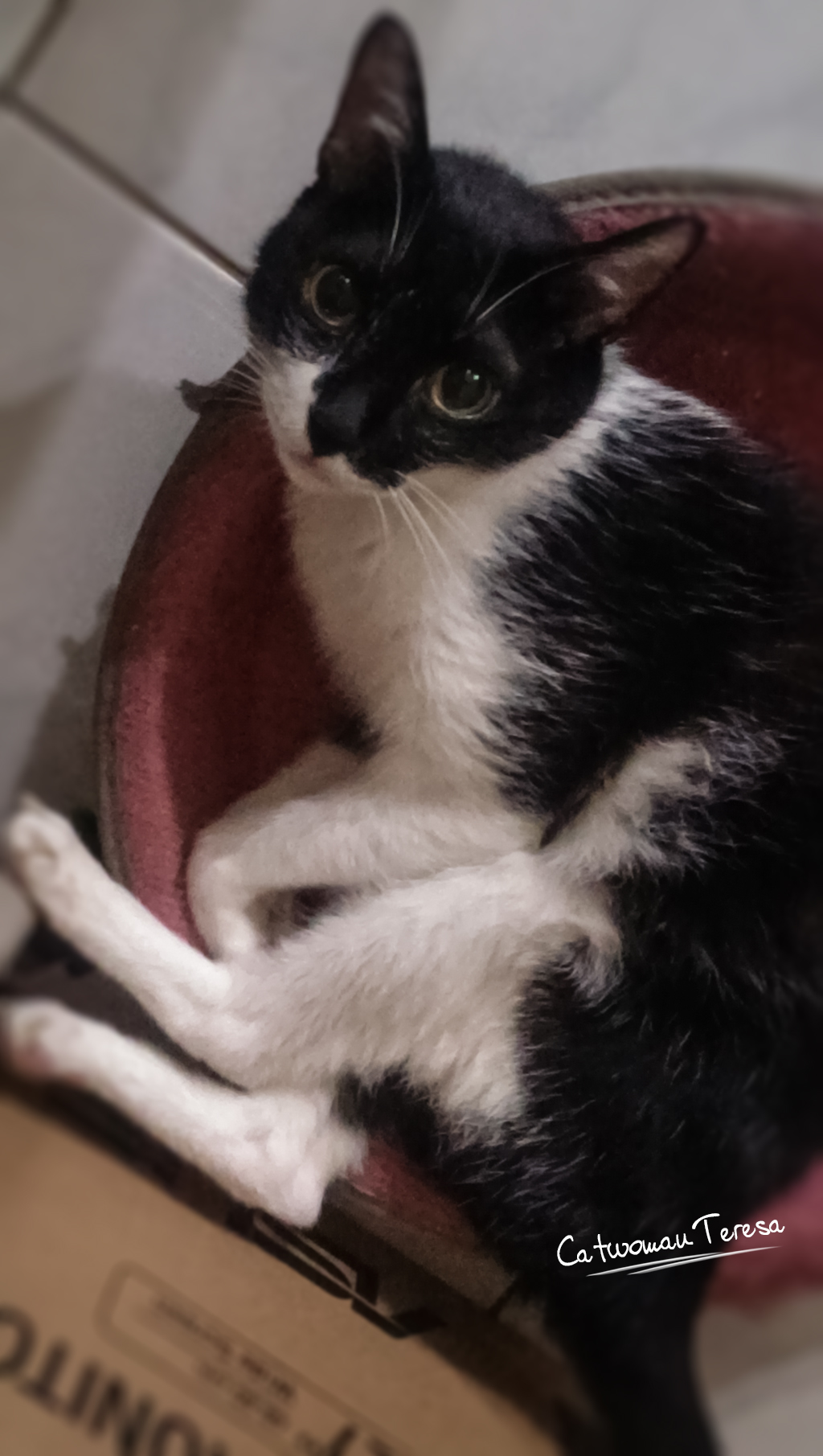 Recently, Er-Mao begins to take a new interest in his old scratch basin, a cat-shaped scratch basin that allows the cat to scratch with its claws, or can also be used as a sleeping nest. And even better, it is very durable.

When I first bought it, Er-Mao liked to sleep as a nest. And occasionally, scratch it as an obligation like the emperor treats his concubine.
Except for our bed, Er-Mao never has any loyalty to where he sleeps, so it isn't long before the basin fell out of favor.

My husband likes to be neat and clean. When he sees that Er-Mao is not going to use this scratch basin, he put it in the corner whit full of various toys of Er-Mao on it. After a long time, it was my turn that I can't stand it. I think that if the basin is full of all kinds of stuff, of course Er-Mao won't be able to use it again. 

So I take out the cat-shaped basin and put it on the floor of the living room.
I didn't know whether Er-Mao thinks he sees his old friend, or he thinks he has a new darling. In short, he immediately rushes forward, scratches it and lies in the basin and roll over. In the next few days, he scratches and lies in the basin every day. The basin becomes his new favorite.

最近二毛開始對他的一個舊的貓抓盆重新產生了興趣,這個貓咪形狀的抓抓盆,可以讓貓咪磨爪子,也可以當作睡覺的小窩,更棒的是非常耐用。
剛買來的時候,二毛喜歡把它當作窩來睡,偶爾也會跟皇上臨幸一樣,抓抓它表示盡點義務。只不過除了我們的床之外,二毛對於睡覺的地方從來沒有什麼忠誠度,所以沒有多久,貓咪頭盆盆就失寵了。
我們家長毛爸老爺子很愛乾淨,看到貓抓盆失寵了,就看不得它放在客廳佔位子,所以就把它塞到角落,上面堆滿了同樣失寵的各式各樣玩具。
過了好久,輪到我看不下去了。上面堆滿東西的盆子,二毛當然不可能再去用,怎麼可以因為皇上比較少臨幸,就隨便將妃子打入冷宮呢!
我真的很入戲,呵呵! 

所以我又把貓貓頭盆子翻出來,放到客廳地上。
二毛不知道是看到老相好,還是他以為又有新寵,總之,他立刻衝上前去,盡情的抓個過癮,然後立刻躺進盆子中翻滾。接下來的幾天,貓貓頭抓抓盆每天被臨幸,儼然成了新寵。

Er-Mao seems to be particularly relaxed on the scratch basin that you can see the unreserved strange postures in which he lies.

So, we have more entertainment every day, that is, to enjoy Er-Mao's yoga performance. If you want to learn yoga, do you want to worship Ermao as a teacher?

二毛在這個抓抓盆上,似乎特別放鬆,於是各種不矜持的怪姿勢都出來了。

於是,我們每天多了個娛樂,就是欣賞二毛表演瑜伽秀。想學瑜伽的朋友,要不要跟拜二毛為師呢?

❤️Love from Catwomanteresa

If you like my post, please follow, comment and upvote me. There will be more exciting posts. See you next time~

如果你想要更了解我,請看我的自我介紹
喜歡我分享的內容的話,歡迎關注、點讚、轉發,接下來還有更多精彩的內容,我們下次見!