This article is the entry to participate in the Fundition "Show your Heart" (I make the name by myself) contest, the rule is to create a heart in any way, and write a short description for the photo.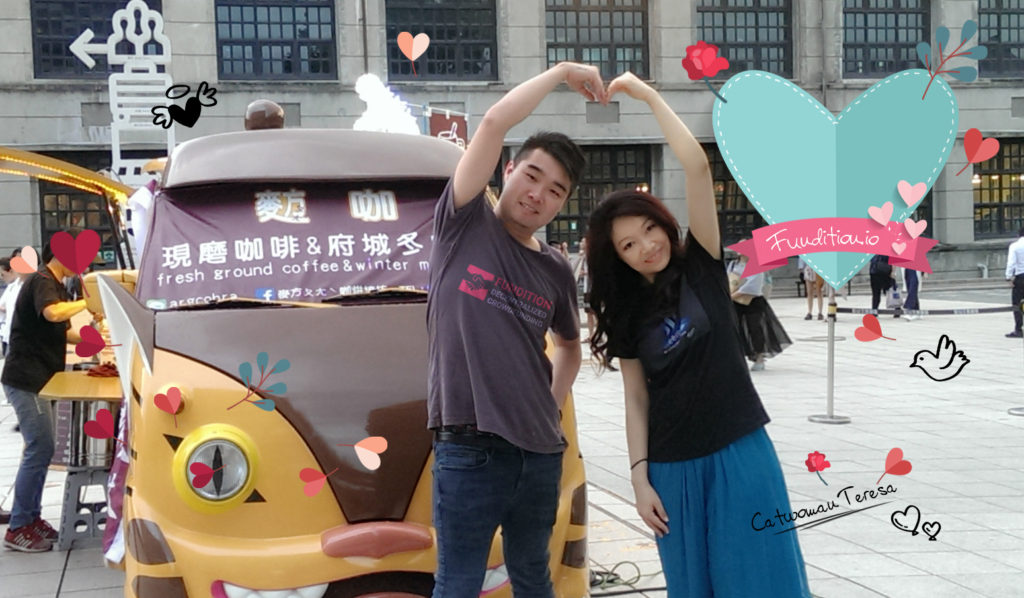 Choose this way to make a heart because I am very happy to meet with steemian from Hong Kong. It's lucky to know Steemians from all over the world, and even to talk face to face. Who can say it's not a broad sense of love? 
That's right! It is "friendship"! So, every Mrs. Lee(s), don't hate me, I really have nothing to do with this popular guy @aaronli! 

I really like the concept of Fundition. Charity is my initial purpose for blogging. You can look at my self-introduction if you are interested. So I am excited to support the contest and wish that I can deliver my heart to the world.
In addition, @aaronli is the ambassador of Fundition, so it's meaningful to cooperate with him to create this heart. At the same time, because he comes from the different region, this heart also represents the meaning of world integration.
Unfortunately, everyone can only participate once, otherwise, I have different ideas!
If you are interested in participating in the contest too, the deadline for the contest is until the end of August. Show your creativity to create your own unique heart! Enjoy it!
Check out the original post here.
You can also check out the meetup post that @aaronli meets with other Taiwan steemians.

各位好朋友,嚇到了嗎?這不是一篇公開關係的帖子,也不是放閃的炫耀文,我可沒打算斷了@aaronli撩妹的後路呢!哈哈哈!

這篇文章是我(們)參加Fundition的"秀出你的心"比賽(我自己取的名字啦!),比賽的內容是要用任何方式創造出一顆心,並且簡單說明這張照片。

選擇用這樣的方式製作一顆心,因為我很開心能跟來自香港的steemit用戶碰面,能夠認識來自世界各地的Steemit用戶,還能夠面對面聊天,誰能說不是一種有友愛的表現?

沒錯!就是「友愛」!所以眾位李太太們不要討厭我,我跟這位人氣撩妹王@arronli真的沒什麼關係!

Fundition是Steemit上面的一個應用項目,是一個區塊鏈上的去中心化眾籌平台,可以透過這個平台資助一些慈善計畫,或是幫助很多人實現夢想。我很喜歡Fundition這個應用項目,做慈善本來就是我寫部落格的初心,有興趣了解的朋友可以看一下我的自我介紹。所以他們辦了這個比賽,我一定要表示支持,希望可以把我的愛心散佈到全世界。
而且@arronli是Fundition的大使,所以跟他合作創作這顆心意義特別非凡,同時因為他來自不同的地區,這顆心也代表了世界融合的含義。
可惜一個人只能參加一次,不然我還有不同的點子呢!
有興趣參加競賽的朋友,比賽截止日期到八月底,趕快動動腦筋,創作出屬於你的獨特的心喔!
競賽規則請參考這篇文章
這次@aaronli造訪台灣,我寫了一篇聚會文,請看這裏
Thanks for reading. 
If you would like to learn more about me, please read my intro.
Welcome to like, share, and follow me. If you like the content I share with you, don't hesitate to leave your comment. See you next time~!
如果你想要更了解我,請看我的自我介紹
歡迎關注、點讚、轉發,喜歡我分享的內容的話,別忘了留言告訴我喔!我們下次見!
© Copyright 所有照片與文字皆為原創 All photos were taken by the author. All rights reserved.