Google is using AI technique to help the many millions of blind or visually impaired people in the world navigate their homes, offices and other environments.
The Android app Lookout assists blind or visually impaired people to become more independent by sensing the objects, text, and people around them and give them voice alerts.
Google利用人工智能的技術,將安卓手機轉變為幫助盲人探索世界的工具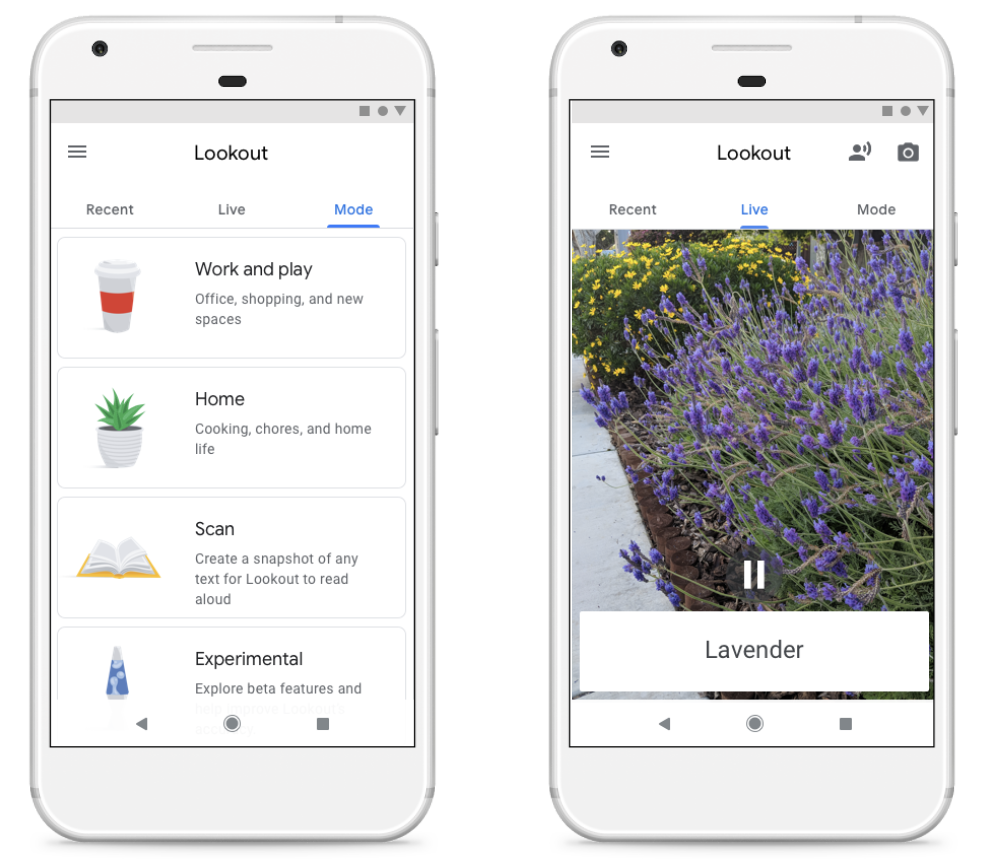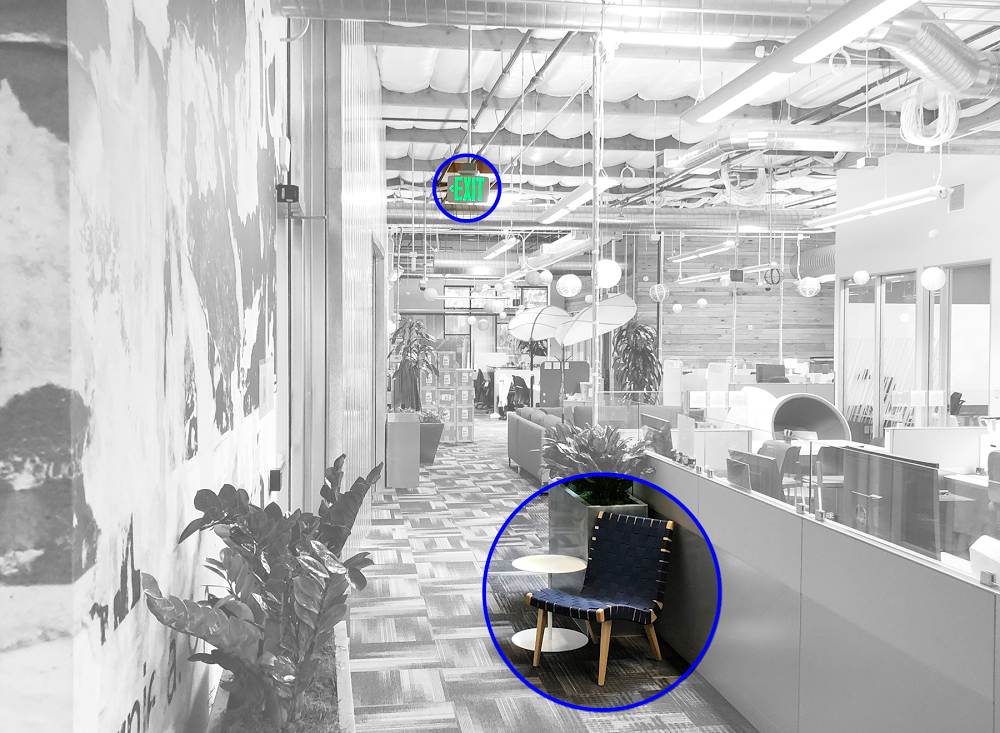 Google turns the regular android phone into an artificial intelligence-powered helper for the blind. The application has four distinct modes, Depending on the mode, the app processes items of importance in the environment and then shares information it considers to be relevant.
Work and play: Office, Shopping, and new spaces.
Tell the users when they're next to an office elevator or stairwell is, or the various tools they need for their job.
Home: Cooking, chores, and home life
Tell users where the furniture is if they're doing chores or cleaning the house and need to move things away from their usual places. For instance, it offers "couch 3 o'clock" to let users understand that the couch is on their right.
Scan: Create a snapshot of any text for Lookout to read aloud.
Experimental: Explore beta features
The user can get an early access to the features that are in the pipeline. Lookout will use machine learning to figure out what visually impaired users think it's important and worth hearing about and then accordingly deliver more appropriate results So the more people use it, the better it becomes.
軟體內建四項模式:工作場合及出遊、家、掃描、實驗。
Lookout可以利用手機相機偵測使用者附近的物品或人,語音提醒使用者物品的相對位置,例如:椅子在3點鐘位置。
也可以掃描書中文字,幫助盲人語音閱讀。
實驗功能則可以預先測試仍在開發中的功能,增加人工智能的數據庫,讓軟體更貼近使用者的需求。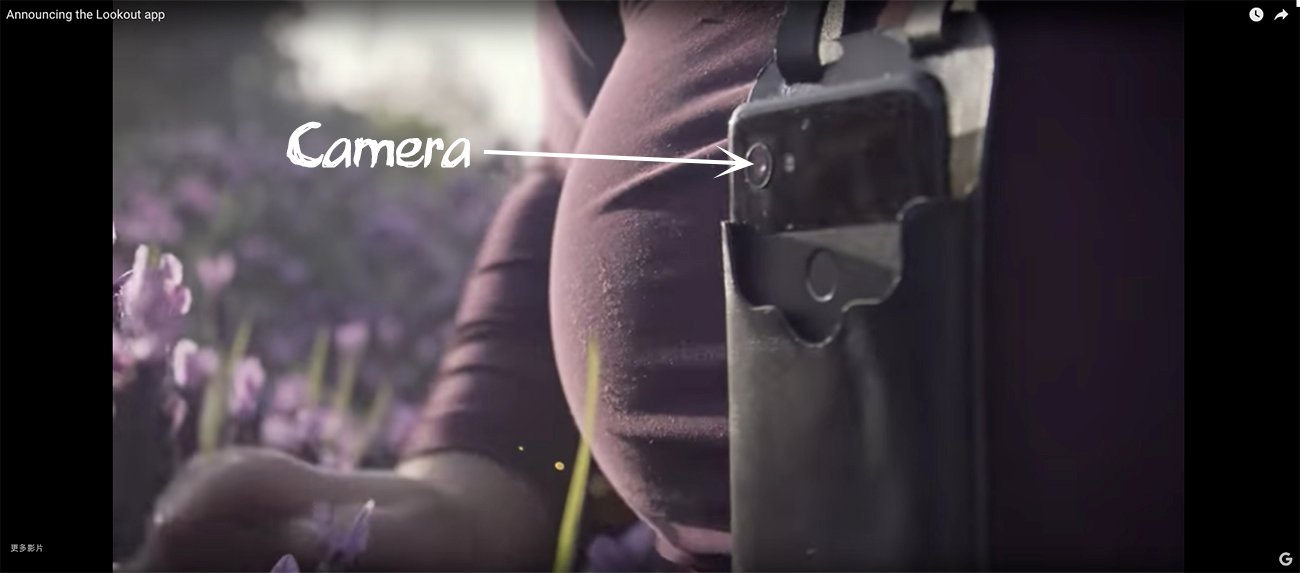 Google recommends users hang the phone around their neck with a lanyard or in of a shirt pocket, with its rear camera positioned in front which enables the app to scan the surroundings. In the Lookout app, select a mode and the app will sense the object in the physical surrounding and alert the user about the location, such as a chair nearby, an exit sign and the location of a bathroom. It can even detect and speak the text of a book that a user wishes to read.
Moreover, the core experience on Lookout is processed on the device to offer its features without requiring an internet connection.
使用者將手機掛在胸前或放在胸前口袋,相機鏡頭面對前方,相機就可以偵測附近的物品或文字。
軟體的執行核心已內建於裝置中,因此不需要網路連線就可以正常執行。
Google is testing Lookout app now and the app is coming to the Play Store in the U.S later this year.
"Accessibility will be an ongoing priority for us, and Lookout is one step in helping blind or visually impaired people gain more independence by understanding their physical surroundings."

said Patrick Clary, Product Manager for Google's Central Accessibility Team, in a blog post.
I am very pleased to see that Google or other companies are committed to the development of accessibility for the benefit of friends with disabilities. Google did not say whether the LookoutApp can be implemented by the voice assistant Google Assistant. If not, visually impaired people still need help from others to open the App and select a mode before they can start to use it to see the world. I'd love to see that Google can quickly improve Lookout's not-so-perfect part and make it easier for blind or visually impaired people to access to the real world.
軟體仍在測試階段,預計今年之內會先在Play Store上線,供視障者使用。
很高興看到Google或其他公司致力於開發這些幫助身心障礙者的使用工具,Google公司沒有提到是否有語音助手可以協助視障者開軟體及設定,如果沒有,可能還是會需要旁人的協助才能使用。希望這項工具可以盡快改善不完美的部分,早日讓視障者可以使用,早日讓他們可以更容易融入這個世界。
---
❤️Love from Catwomanteresa
If you like my post, please follow, comment and upvote me. There will be more exciting posts. See you next time~
歡迎關注、點讚、轉發,接下來還有更多精彩的內容,我們下次見!
---
換個搜尋方式就可以免費賺取虛擬幣喔!
詳情請點下圖連結