這又是一篇聚會文,也聚得太頻繁了吧?上個月香港客人@aaronli來訪,距離去年的聚會隔了快要一年,大家迫不急待的藉機吃吃喝喝了一回。以為之後再聚又要等一年之後,沒想到只隔了一個月,我們又迎來了來自泰國的客人@waybeyondpadthai(Mo)。
雖然在這之前,我和Mo完全不認識,她在discord 聯絡我,告知了來台灣的消息,並且希望能多認識一些台灣的用戶。我隨即瀏覽了Mo的部落格,立刻被她在dtube及dlive影片中的熱情所感染,決定出來與她碰面。


My dear friends, this is another meetup post, too often, right? Hong Kong steemian@aaronli visited last month. It was almost a year away from last year's meetup. Everyone took the opportunity to eat and drink excitedly. I thought that we would have to wait another year to get together, but only a month later, we have a visitor from Thailand, @ waybeyondpadthai (Mo).
Although Mo and I didn't know each other before, she contacts me on discord and told me about the news of coming to Taiwan, and wished to know more about Taiwan steemians. After browsing Mo's blog, I was immediately attracted by her passion for dtube and dlive videos and decided to meet her.
本以為才剛聚會完,除了我之外大概不會有人為了不認識的人出來碰面,沒想到熱情的不只是Mo,台灣的這群好朋友也興致勃勃的想認識來自不同國度的新朋友,於是我開心地安排了這次聚會。

Since we had just finished the meetup, I thought there would probably be no one except me who would like to come out to meet people they don't know. I didn't expect that my good friends from Taiwan would also want to know a new friend from a different country, so I happily arrange for the meetup.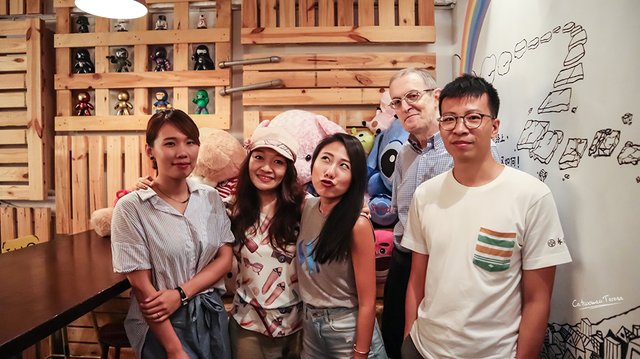 上次聚會解散後,我在離開的途中,發現了這個可愛的咖啡廳「TankQ」。看到門口輪胎畫成的小小兵,還有疊成趴趴熊一般的小熊維尼們。從大片的玻璃窗看進去,暖黃的燈光和溫馨的氣氛深深吸引了我。我忍不住在門外拍了這幾張照片,心中暗暗盤算著要找個機會來這邊好好擁抱這些萌翻天的卡通角色。

果真心想事成,僅僅不到一個月現成的機會就自動上門,於是我毫不猶豫的就決定將聚會地點訂在這兒了。
After the end of the last party, I found this lovely cafe "TankQ" on my way home. I see the minion painted on tires, and different sizes of Winnie the Pooh stacked like Tarepanda. Looking through the large glass windows, the warm yellow light and atmosphere deeply attracted me. I couldn't help taking these pictures outside the door, secretly thinking about finding a chance to come here and embrace these cute cartoon characters.
Dreams come true! the chance of being ready for a mere less than a month comes to me automatically, so I decided not to hesitate to set the meeting place here.
---
台北美食特價搜尋看這裡:Klook客路
---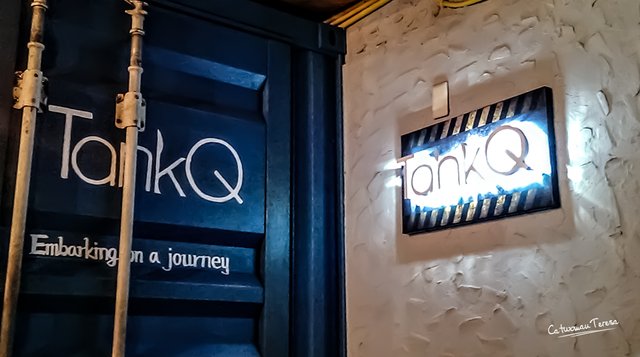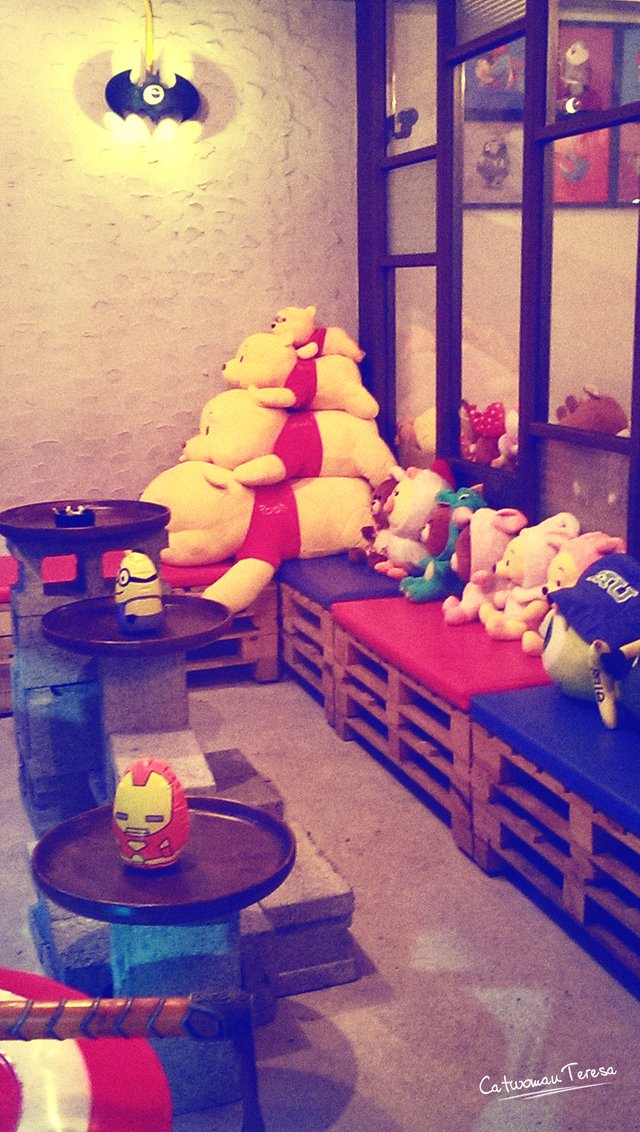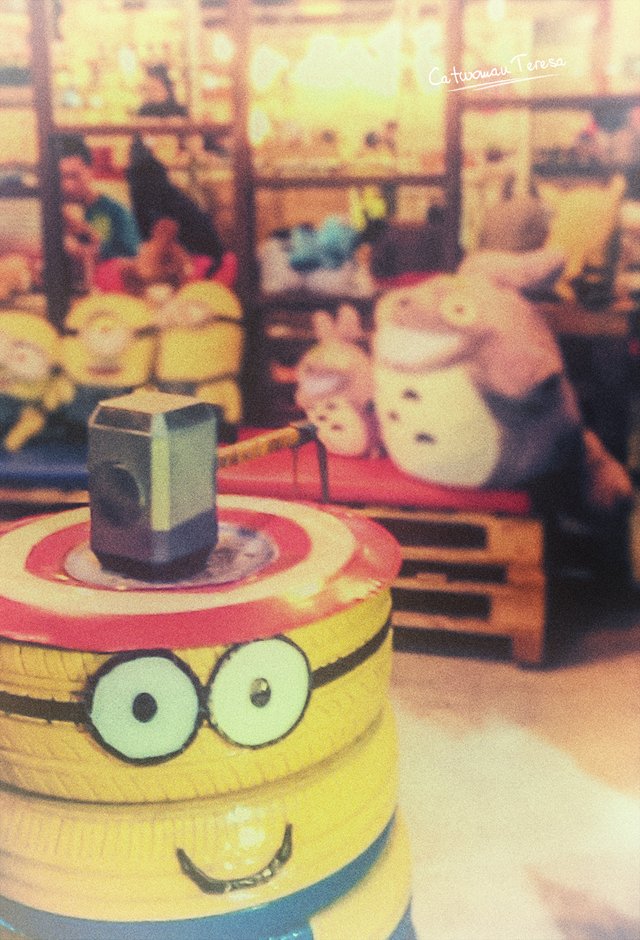 首先我們先來看看這裏的環境。一進門便是一大面牆的卡通抱枕,來這裡的少女們,大概很難抗拒不在這裡留下來此一遊的紀錄吧?就讓我也留下不專業的網美照

First, let's take a look at the environment here. Once inside, there are a couple of cartoon pillows hanging on the wall. For girls to come here, it is probably hard to resist checking in on Facebook and Instagram here. Let me pretend to be an internet celebrity too.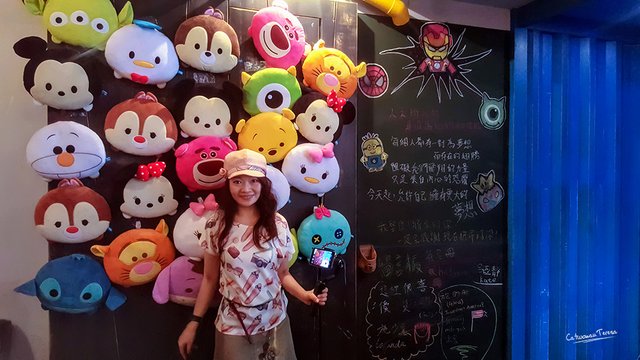 咖啡廳內處處都是大大小小的公仔,多到數不清,有些是我不熟悉的角色,不過大部份都是有名的卡通角色或動畫角色。

There are action figures everywhere in the cafe. Some of them I am not familiar with, but most of them are famous cartoon characters or animation characters.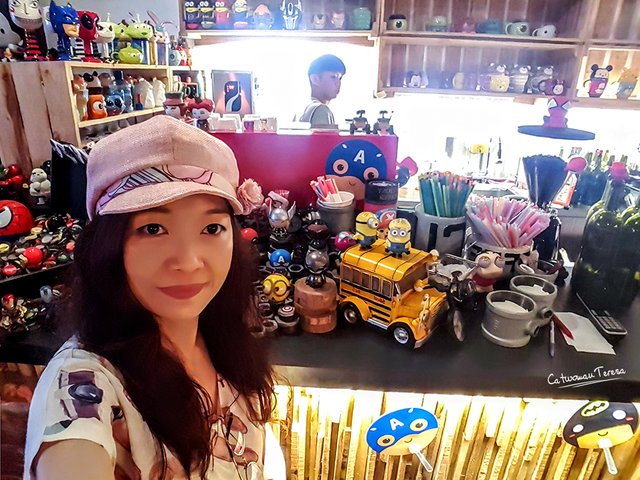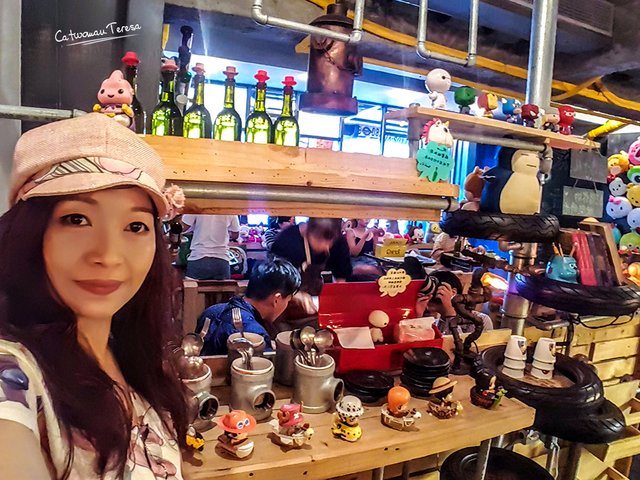 天花板上吊掛著各種形狀的燈泡,原來我之前被吸引的暖黃燈光,就來自這些燈泡,匠心獨具的小巧思,讓原本冷酷的工業風天花板增添了活潑俏皮的感覺。

咖啡廳中還有更多值得發掘欣賞的小角落,不過我們今天的重點是聚會,所以關於更多餐廳的資訊,就留待之後的文章再跟大家分享。
There are all kinds of light bulbs hanging from the ceiling. The warm yellow lights that I was attracted to before coming from these bulbs. The unique and ingenious ideas add a lively and playful feeling to the cold industrial style ceiling.
There are more small corners in the cafe that is worth exploring, but our focus today is on gatherings so more information about the restaurant will be shared with you in later posts.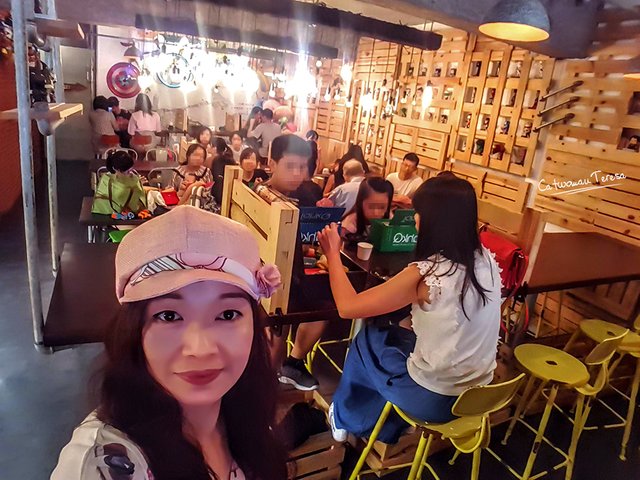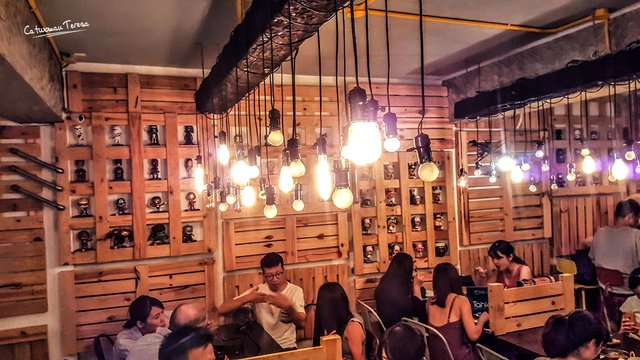 ---
台北美食特價搜尋看這裡:Klook客路
---
我們先來介紹今天的主角吧!讓我們鄭重歡迎來自泰國的客人,掌聲鼓勵

來自泰國的Mo,加入Steemit大約半年多,就已經擁有不少粉絲。她擅長拍攝vlog,除了有專業的拍攝技術,她活潑且幽默的個性,透過她的剪接手法展露無疑。觀看她的vlog,不論影片有多長,我都不會想快轉跳過。

It's time to introduce today's protagonist! Let us solemnly welcome the guest from Thailand. Applause!!
Mo from Thailand has been on Steemit for more than half a year and already has a lot of fans. She is good at shooting vlogs. In addition to her professional shooting skills, her lively and humorous personality is undoubtedly revealed through her editing techniques. Watching her vlog, no matter how long the video is, I don't want to fast forward.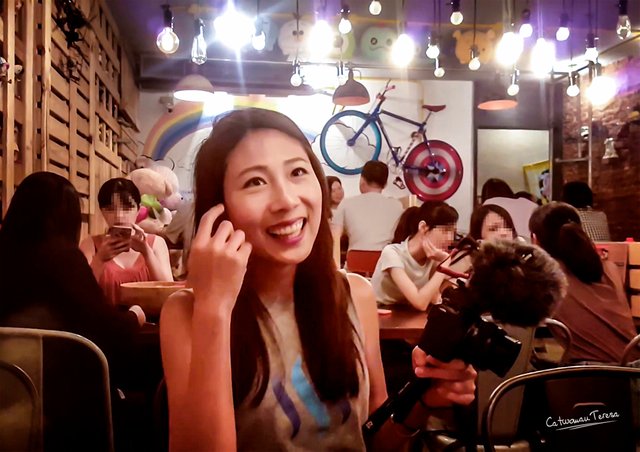 這次出席的台灣用戶有四位,除了我@catwomanteresa之外,另外還有@shieha,@lydiachan,@wentong-syhhae
There are four Taiwanese steemians attending this time. In addition to me @catwomanteresa, also @shieha, @lydiachan, @wentong-syhhae
---
對我來說,他也算是今天的新朋友,在我們之前的幾次聚會,他都剛好錯過,這次終於趕上了聚會。他來自法國,在美國接受高等教育,在台大讀中文研究所之後,就選擇在台灣定居下來,至今超過四十年。他形容自己有法國腸胃、美國大腦、台灣之心。果真是中文老師,這番描述簡潔又易懂,更是帶著些許文藝氣息。

他的部落格寫了很多關於中文的教學,很多知識連我們從小使用中文都不見得懂,很推薦大家有空去看看,也許可以得到一些有趣的知識喔!
喔!大家猜猜他的帳號名字是什麼意思?我也是當天才恍然大悟的。
For me, he is also a new friend today. He missed the previous meetups and finally made it this time. He came from France and received most of his education in the United States. After studying in the graduate school of Chinese Literature at National Taiwan University, he chose to settle in Taiwan for more than 40 years until now. He describes himself as having a French palate, an American brain, and a Taiwanese heart. This description is simple and easy to understand with a little literary.
On his blog, he has written a lot of teaching about Chinese. Some of them I don't know before even though I have used Chinese from my childhood. I recommend you to look at his blog, maybe you can get some interesting knowledge!
---
Aaron是Steemit上面的元老級人物,reputation已經超過70了,令我望塵莫及啊!他擅長攝影,在Steemit上面持續發表很多高品質的攝影作品,尤其一些關於攝影方面的實驗,特別讓我感到有趣。最近他發表的針孔攝影系列,作品充滿了特殊的朦朧美,跟常見的攝影作品有著不同的藝術角度。

Aaron is a veteran of Steemit with a reputation of more than 70. He is good at photography and continues to publish a lot of high-quality photography on Steemit, especially for experiments on photography, which makes me particularly interested. His recently published series of pinhole photography is full of special hazy beauty and has a different artistic perspective from common photography.
---
Lydia也是大家的老朋友了,雖然婚後因為兼顧家庭與工作,比較沒那麼多時間發文,不過仍然不放過跟老朋友聚會的機會,每次見面都非常熱絡。她寫了不少美食與旅遊的文章,她的部落格可以說是台灣地區的美食旅遊地圖。她幽默動人的文筆和一直以來的好人緣,相信很多人都印象深刻。

Lydia is also our old friend. Although She doesn't have much time to write posts recently because of her family and work, she still doesn't miss the opportunity to meet old friends enthusiastically. She has written many posts on food and travel. Her blog can be said to be a map of food and tourism in Taiwan. Her humorous writing and good fellowship impress many people.
---
正在看這篇文章的朋友,感謝你們一直以來的支持。因為興趣多元,我的部落格有各式各樣的內容,Steemit上面最受歡迎的美食與旅遊文在我的部落格中也常常出現。除此之外,因為自己是學藝術的,所以三不五時會分享一些攝影後製的技巧或是繪畫設計等作品。甚至,愛唱歌的我有時候還會跟大家分享一些歌唱的錄音。

希望各位老朋友新朋友能夠繼續關注我的部落格,我也會持續發表各種有趣的內容跟大家分享。
Thank you for your continued support. Because of the diversity of interests, my blog has a wide variety of content. I write a lot of food and travel posts which are popular on Steemit. In addition, because of my background in art, I share some post-production techniques or my painting and designs. Sometimes I share some singing recordings with you because I really like singing.
I hope that old friends and new friends can continue to pay attention to my blog, I will continue to publish a variety of interesting content to share with you.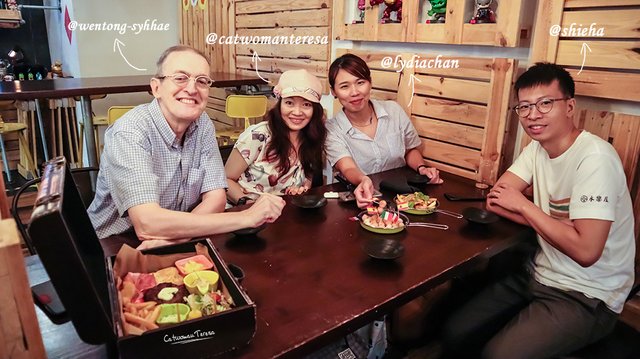 當天大家聊得非常愉快,用英文聊天真是個大考驗啊!老前輩@wentong-syhhae學富五車,跟我們分享了很多生活經驗與學術知識,讓我們受益匪淺。

我們聊的內容天南地北,在這裡跟大家分享一則當時的有趣對話。@wentong-syhhae提到說,現代人因為習慣使用電腦及通訊設備,記憶力嚴重退化,他為了避免這些工具帶來的弊端,所以堅持記住所有的密碼,並且在進入各種帳號時手動輸入密碼,而不選擇自動輸入。於是我問了一句,那Steemit的帳號也都記住且手動輸入嗎?頓時一陣哄堂大笑,答案大家應該猜得到吧?Steemit的密碼是唯一記不得的。誰能夠記得住幾十個數字的密碼呢?哈哈哈!

Everyone chats very happily. It is really a big trial for me to chat in English! @wentong-syhhae is rich in knowledge and shares a lot of life experience and academic knowledge with us, which benefit us a lot.
We had an interesting conversation on that day. @ wentong-syhhae mentioned that the memory of modern people is seriously degraded because of their habit of using computers and communication devices. In order to avoid the drawbacks caused by these tools, he insists on remembering all passwords and manually entering passwords when entering various accounts instead of selecting automatic input. So I asked, do you remember Steemit's account number and enter it manually? There is a burst of laughter! The answer is, steemit's password is the only thing he can't remember. Hahaha! Who can remember the password with dozens of digits?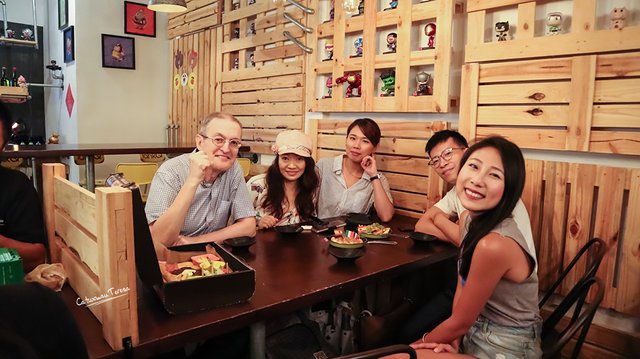 離開前,我們又在外面的小庭院拍照。原來小小兵上面放的是個錘子和盾牌,我們爭相拿著道具拍照和錄影,還挺搞笑的。

Before leaving, we took some pictures outside the small courtyard. It turns out that there are a hammer and a shield on the minion tires. We all took pictures and videos with the hammer and shield. It was quite funny.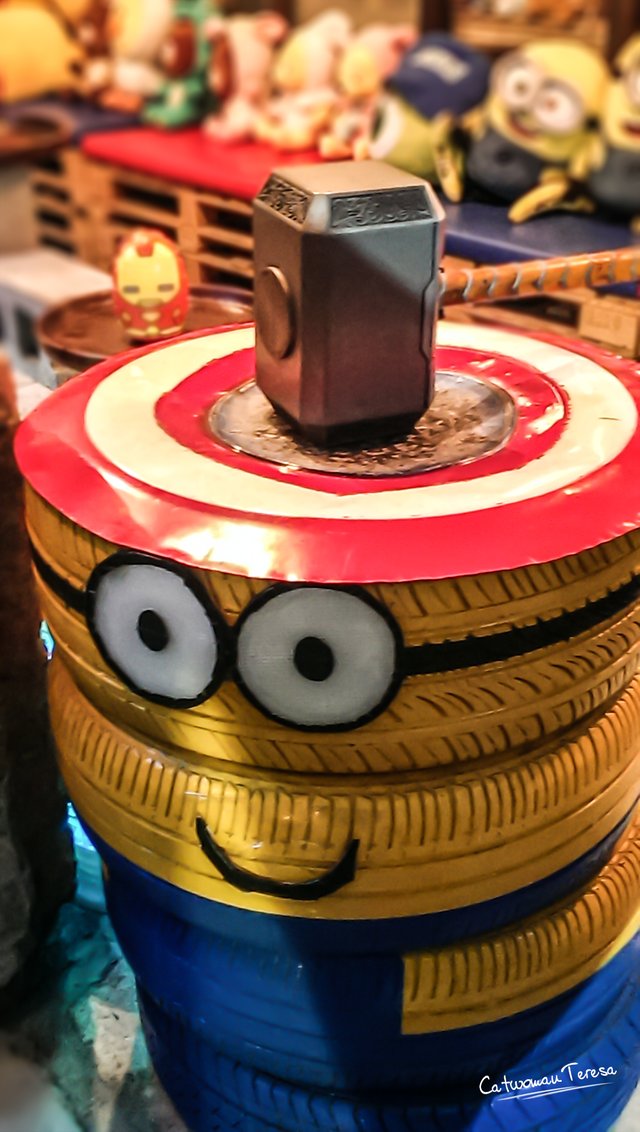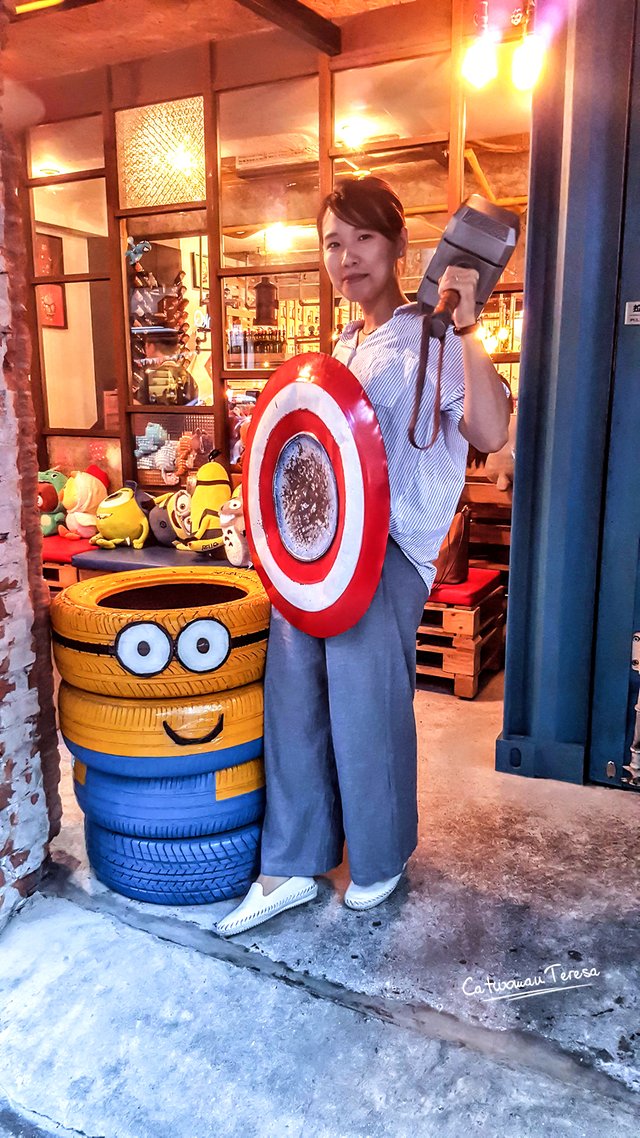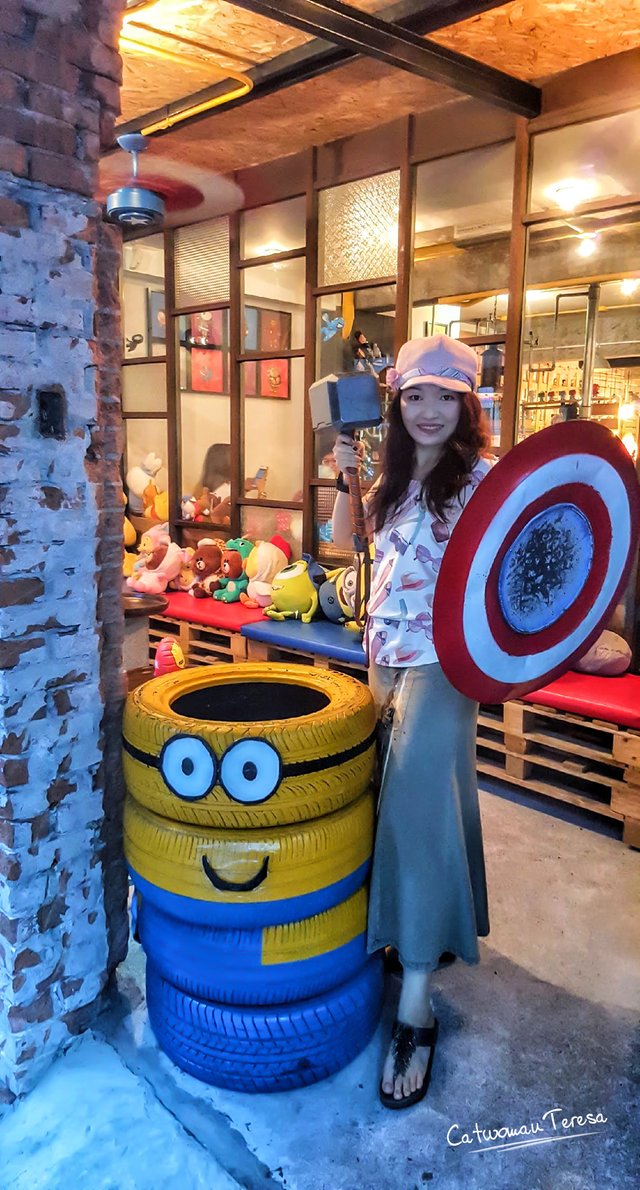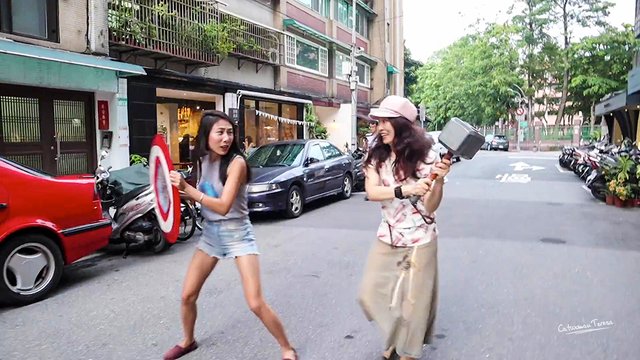 被娃娃埋沒的感覺,當然也要感受一下囉!在這麼多玩偶環伺的環境下,哪個女孩子不會少女心大噴發呢?融入於卡通角色中的我們,是不是顯得特別天真爛漫呢?

Of course, we have to enjoy being buried by the dolls. Which girl wouldn't fall in love with the environment full of so many cute dolls around? Do we look particularly innocent when we are integrated into cartoon characters?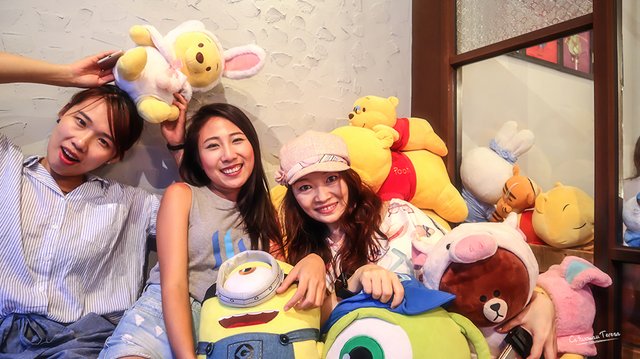 今天的溫馨聚會就到此結束了,跟Steemit用戶碰面真是令人愉悅,我們的友誼也因為一次一次的碰面更加鞏固。關於TankQ的更多環境介紹與食物,就待改日繼續跟大家分享。
This is the end of today's warm gathering, and it is really pleasant to meet steemians. Our friendship is more and more strengthened by these meetups.
More about the environment and food of TankQ, I will continue to share with you in the following day.
---
台北美食特價搜尋看這裡:Klook客路
---
More meetup posts 更多聚會文:
The first major Taipei Steemit meetup 第一次Steemit台北大型聚會
❤️Love from Catwomanteresa
If you like my post, please follow, comment and upvote me. There will be more exciting posts. See you next time~
歡迎關注、點讚、轉發,接下來還有更多精彩的內容,我們下次見!
---
換個搜尋方式就可以免費賺取虛擬幣喔!
詳情請點下圖連結