從台中花博外埔園區的樂農館,我從迴廊的落地窗看出去,看到這個很吸人眼球的球狀建築,心中頗好奇。
參觀完樂農館,就匆匆往這個建築奔去,心想這應該也是外埔園區裡面的重要看點。
殊不知,原來裡面是個污水處理系統,每一個抱著期望來這裡的遊客,反應千篇一律是: 還以為是什麼景點呢!這有什麼好看的?
事實上,這個污水處理系統可以處理整個外埔園區的污水,經過系統回收處理過的水,會用來澆花及做為公廁的用水,是很棒的環保概念。污水處理系統建的這麼美觀,顯示了台中市政府重視細節的程度。
這個圓頂建築取名為「竹穹惜水」,建築的外觀是竹編的材質,仔細看紋路還蠻漂亮的。環繞的水池映照著美麗的建築成為完整的球形,象徵著生生不息。與其說是建築,我覺得不論是外型或是創意概念,都可以看做是一個裝置藝術。
既然是被建築外觀吸引來的,自然是要留個影,不然哪裡有網美照跟大家分享呢?
好不容易等到其他遊客拍照的空檔搶拍了幾張照片,自拍真的很難控制,顧不得構圖不夠滿意,也只能迅速拍完離開。
I took this photo inside the Harvest Blessings Pavilion at Waipu Expo Site of Taichung World Flora Exposition.
I was attracted by the dome when I look through the windows. So I run toward the dome immediately right after I finish the tour of the Harvest Blessings Pavilion.
Actually, it's a wastewater treatment facility which recycles the wastewater of Waipu Expo Site and the recycled water is used to water plants and flush toilets.
The dome is surrounded by a pond which reflects the hemispherical dome into a whole ball and represents the endless life on earth.
The hemispherical dome is woven by bamboo. The texture of woven bamboo is very beautiful. I think the dome is not only a wastewater treatment facility, but also can be thought of the installation art.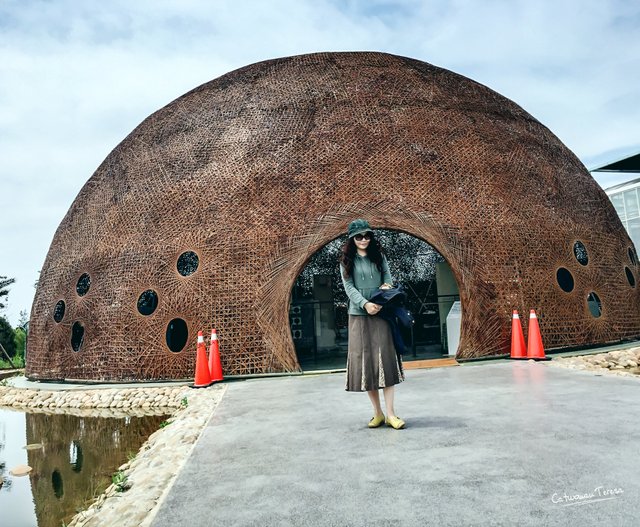 ❤️Love from Catwomanteresa

If you like my post, please follow, comment and upvote me. There will be more exciting posts. See you next time~

如果你想要更了解我,請看我的自我介紹
喜歡我分享的內容的話,歡迎關注、點讚、轉發,接下來還有更多精彩的內容,我們下次見!