About who I would like to meet in SteemFest4, I definitely have many many many people I want to meet. I have been on Steemit for 2 years and make so many friends here. I missed the SteemFest3 last year because it's too far away from me. It's the best chance for me to go to Thailand for SteemFest4. I am so excited that I may have the opportunity to see those friends face to face who I chat online and support each other.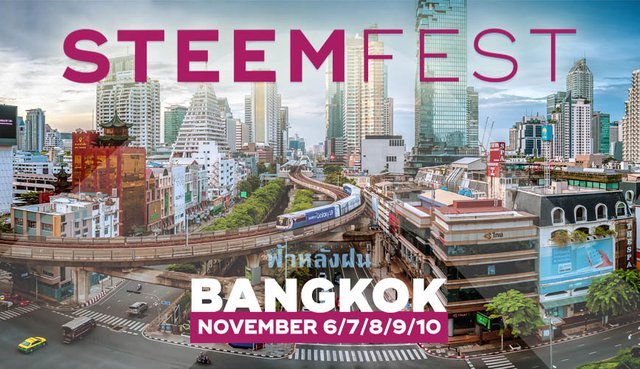 💝 I have met some steemians when they came to Taiwan, such as @waybeyondpadthai, @joythewanderer, @sweetsssj. I miss them so much and I hope that I will be able to meet them again in Thailand. The problem is, they are very popular. I am afraid that I may have to line up in order to chat with them.
💝 OCD team
@acidyo He chats with OCD curators on discord occasionally. I seldom join their conversation, but sometimes I will read them for fun. It seems that he is a humorous and knowledgeable guy. So I am eager to meet him face to face.
@anomadsoul The first time I talked to him because he was looking for someone to translated posts of @steemonboarding into Chinese. I helped him to translate one post. Although I didn't get the position, I am impressed with the nice intention of @steemonboarding and @anomadsoul to help newbies. When he DM me and invites me to OCD, I was so surprised. What jumps into my mind immediately is: Wow! How many great things you have involved in Steemit? Now I may have the chance to meet him in SteemFest4, I really feel so excited.
@veryspider I met spider at nTOPAZ. She was the leader of Visual Art of nTOPAZ at that time and helped me a lot when I was still new in nTOPAZ curator team. I am so happy that we can work together at OCD again. It's sad that she already told me she won't go to SteemFest4. I hope she will change her mind.
@travelgirl She is one of the people I know when I just join Steemit at the very beginning because we join Steemit about the same time. She is more active than me. One of the reason is that her English is much better than me. So I will ask her about what happens on Steemit recently when I am too busy to surf on Steemit. Haha! Thank you, @travelgirl.
@livinguktaiwan Same as @travelgirl, we join Steemit around the same time and become good friends. She is my resource of Steemit news too. Hahaha!

Although we already meet many times because we all live in Taiwan, I think that we will have lots of fun when we meet other girls together at SteemFest4.
💝 nTOPAZ team
All the curators on nTOPAZ are artists themselves. I really appreciate their artworks on nTOPAZ. I make some friends @veryspider, @axeman, @stef1, @smeralda, @elisonr13. It's a pity that most of them are not in nTOPAZ team anymore. I hope I will have the chance to meet them and talk about our artworks this time.
💝 Fundition team
@leotrap He creates some wonderful project on Fundition which are mostly about charity or environmental protection. I like his kindness for the earth. I also enjoy his well-edited video which shows that he is quite talented.
@bitrocker2020 I never talked to him before. He shares the photos about the events he promotes Steemit in Malaysia. I really appreciate his enthusiasm and energy about promoting Steemit. So I hope I will have the chance to meet him and feel his enthusiasm.
@siamcat She is very responsible in every position she involves. We work together on Fundition, nTOPAZ and Weku. She is so active on discord and looks so nice on Fundition. I hope I can meet her in person since we already talk a lot online.
💝 CN&Team Malaysia
I make so many friends on these community. @ace108 @rea @rivalhw@oflyhigh @htliao @elizacheng @jrvacation @wanderwithtwo@nanosaseme @iamjadeline @wilhb81 @itchyfeetdonica, and many more who I don't mention all. They are the steemians I communicate the most. I am so eager to meet them all.
💝I also want to meet some famous steemians whom I never have the chance to make friends with, including @kevinwang, @ramengirl, @slowwalker. Because too many people upvote and comment under their posts, they never notice me at all. hahaha!

Those steemians make high-quality posts all the time and become the influential persons on Steemit. I think I can learn a lot from them if I can meet them this time.
Oh my god! I mentioned so many people much much more than 5, I am so greedy!

I believe you can feel how much I am excited about the SteemFest4 although I am not sure if I can go. Hope that I will have the chance to win an entry ticket so that I will have no doubt to go since the financial problem is resolved.
❤️Love from Catwomanteresa
If you like my post, please follow, comment and upvote me. There will be more exciting posts. See you next time~
如果你想要更了解我,請看我的自我介紹
喜歡我分享的內容的話,歡迎關注、點讚、轉發,接下來還有更多精彩的內容,我們下次見!