說到高雄佛光山,在台灣大概很少人不知道,不過佛陀紀念館就不一定每個人都這麼清楚,我是這次去旅遊才知道原來在佛光山旁邊建造了這麼一座氣勢滂礡佔地寬廣的紀念館。應該不會大家都知道,只有我不知道吧?囧

Talking about Fo Guang Shan in Kaohsiung, I think most people are familiar with it, but not everybody knows about Fo Guang Shan Buddha Museum. I don't know the Buddha Museum before I visited it this time either. Wait! Don't tell me I am the only one who doesn't know the Buddha Museum!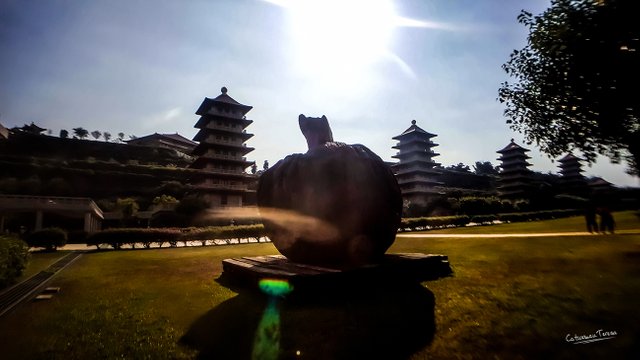 佛陀紀念館佔地非常廣,很難一次介紹完。所以今天我要帶大家看的是佛陀紀念館戶外的雕像、藝術品。其中最值得一提的當然是這件題名為「大豐收」的雕刻品。這個紅銅製的大南瓜,是藝術家白滄沂的雕塑作品,除了在室內展出原作之外,還打造了放大版的雕塑陳列於戶外,吸引不少目光。大南瓜上面的紋路雕刻的相當細緻,渾圓的造型代表著圓圓滿滿,蔬果代表著年年豐收的祝福之意。
我拍攝的這張照片表現出逆光的剪影,圓滾滾的形狀跟環境中的寶塔形狀截然不同,形成強烈的對比。
The Buddha Museum covers a very wide area and it is difficult to introduce it once, so I will only show you some artworks and statues outdoor today. The most impressive one is the big pumpkin made by copper which is entitled "Harvest". This artwork was created by the artist Bai Tsang Yi. The original art piece is exhibited in the hall. The enlarged version of the artwork is displayed outdoor and attracts a lot of attention. The texture on the pumpkin is carved delicately. The rounded shape represents full union and perfection. Vegetable represents the blessing of harvest every year.
The photo I took shows the backlighting silhouette. The rounded pumpkin is very different from the shape of towers in the environment, forming a strong contrast.


走向主館的途中,我顧著拍照而脫隊了,卻因此發現了原來除了中間的成佛大道之外,繞道右側走廊後面,竟然還有一個充滿各式動物雕像的花園,有種發現桃花源的驚喜。

這裏還有一些似乎是不對外開放的建築,我猜大概是師父們住宿或清修之類的地方吧?
On the way to the main building, I didn't walk the path most people follow. So I have the chance to discover a beautiful garden with many animal sculptures behind the row of towers. It gives me the joy of surprise.

There are also some buildings that seem to be not open to the public. I guess it is probably where the buddhas cultivate themselves and pray?

這些動物的雕像,雖然不是名家的作品,但是不論是形體上或是雕像的細節,都製作的很精緻。看看這隻雞身上的羽毛,羽毛的紋路都很清楚細緻。大象的鼻子紋路也都很講究,甚至身上都可以看到肌肉的弧度,一點也不馬虎。

Although the animal statues are not famous artwork, they are very elaborate in terms of the shape or the details of the statue. Look at the feathers on this chicken, the textures of the feathers are very clear and meticulous. The elephant's nose is also very delicate. You can even see the muscle on the elephant's body.


這隻雞好漂亮!長長的尾巴,看起來不像一般的雞,反而讓我想到鳳凰,我想應該是雉雞之類的吧!
Is that chicken or Phasianus colchicus? It makes me think of Phoenix. So beautiful!!
If you visit the Buddha Museum, don't forget to visit this beautiful garden and enjoy those artistic statues.
如果你來到佛陀紀念館,別忘了走到側邊的小花園,觀賞綠油油的草地和充滿藝術感的動物雕像。
---

看貓女最近的文章
---
❤️Love from Catwomanteresa

If you like my post, please follow, comment and upvote me. There will be more exciting posts. See you next time~

歡迎關注、點讚、轉發,接下來還有更多精彩的內容,我們下次見!

---
換個搜尋方式就可以免費賺取虛擬幣喔!
詳情請點下圖連結